Actions and Detail Panel
Wavefront 2017 IoT Summit
Mon, 1 May 2017, 8:00 AM – Tue, 2 May 2017, 4:00 PM EDT
Description
IoT & Digital Transformation: Increasing Enterprise Competitiveness and Relevance
Join us May 1st & 2nd in Toronto, as we provide actionable insight on how to adopt IoT solutions, explore the industries that are leading by example and identify the best practices most suitable to improving your company's competitive advantage.
This year's Summit will cover a robust mix of topics to help you understand and navigate the digital transformation of your organization. Experts will share thought provoking ideas, champions will present stories of successful adoption, and our B2B Meeting Program will connect your enterprise challenges with innovative solutions providers.
Program

Monday, May 1, 2017
8:00 am Registration & Breakfast
9:00 am Opening Remarks & Keynote
10:00 am Track A - Designing a Digital & IoT Organization
Track B - New Technology Making Significant Impacts
12:00 pm Lunch & Networking
1:00 pm Panel Sessions
3:45 pm Closing Keynote
4:45 pm Networking Reception
6:30 pm Exclusive VIP Dinner (details to come)
Tuesday, May 2, 2017
8:00 am Breakfast
9:00 am Keynote
10:45 am Panel
11:45 am Lunch
1:00 pm Track A - New Challenges for a Digital Organization
Track B - Communication Technologies Increasing the Ease of Data Acquisition
2:30 pm Closing Keynote
3:30 pm Closing Remarks
To see the full program, click here.
Hotel Information
The InterContinental Hotel in downtown Toronto (right next the Summit venue) has provided us a discount on room rates. You can book your reservation online or contact the hotel directly at 1-800-235-4670 and refer to "Wavefront" when booking. Please note that space is limited.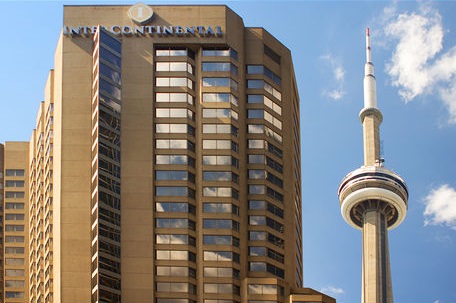 Check out the top 10 things to do when visiting Toronto.
Contact
For more information on the Wavefront Summit, please visit www.wavefront.ca/summit.
Media Inquires: media@wavefront.ca
Other Summit Inquires: summit@wavefront.ca
Follow us on Twitter for more updates @WavefrontCanada
#wavefrontsummit #wavefrontIoT