Description
IoT & Digital Transformation: Increasing Enterprise Competitiveness and Relevance
The Wavefront IoT Summit is the leading Canadian forum for business leaders to come together, explore the latest trends, share best practices, and create connections around the Enterprise Internet of Things. Taking place May 1-2, at the Metro Toronto Convention Centre, this year's Summit focuses on Industry 4.0 and the Internet of Things, helping enterprises discover how to seize opportunities with digital technologies.
This year's Summit includes several elements:
Keynote speakers: insight into the latest trends and thought-provoking commentary from innovators and industry leaders

Panel discussions: exploring topics such as smart cities, privacy issues and IoT adoption in transportation

Pitch competition: showcasing innovative IoT companies competing for prizes

B2B Meetings: facilitated one-on-one meetings matching enterprise and government with IoT solutions providers

Innovation Showcase: featuring businesses offering innovative IoT solutions

Networking receptions: opportunities to meet and mingle with peers, partners, customers and thought leaders.
Program (Agenda details are located at www.wavefront.ca/summit)
Monday, May 1, 2017
8:00 am Registration & Breakfast
9:00 am Opening Remarks & Keynote
10:00 am Track A - Designing a Digital & IoT Organization
Track B - New Technology Making Significant Impacts
12:00 pm Lunch & Networking
1:00 pm Panel Sessions
3:45 pm Closing Keynote
4:45 pm Networking Reception
6:30 pm Speaker and Sponsor VIP Dinner
Tuesday, May 2, 2017
8:00 am Breakfast
9:00 am Keynote
10:45 am Panel
11:45 am Lunch
1:00 pm Track A - New Challenges for a Digital Organization
Track B - Communication Technologies Increasing the Ease of Data Acquisition
2:30 pm Closing Keynote
3:30 pm Closing Remarks
To see the full program, click here.
Hotel Information
The InterContinental Hotel in downtown Toronto (right next the Summit venue) has provided us a discount on room rates. You can book your reservation online or contact the hotel directly at 1-800-235-4670 and refer to "Wavefront" when booking. Please note that space is limited.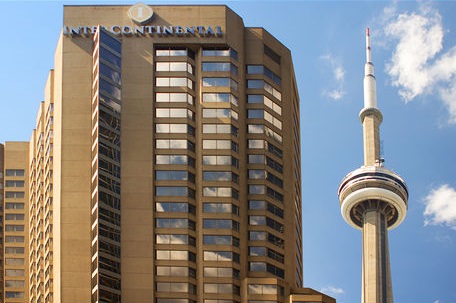 Check out the top 10 things to do when visiting Toronto.
Contact
For more information on the Wavefront Summit, please visit www.wavefront.ca/summit.
Media Inquires: media@wavefront.ca
Other Summit Inquires: summit@wavefront.ca
Follow us on Twitter for more updates @WavefrontCanada
#wavefrontsummit #wavefrontIoT