Location
Neilson Park - Scarborough
1575 Neilson Road
Toronto, ON M1B 5Z7
Canada
Aliens have INVADED Toronto!
About this event
We are back to the original Weed Walk location! The fallen trees have been cleared up and it is safe to meet at the bench between Neilson House and the Community Garden.
NOTE: August 14th ONLY Weed Walk (1-2pm) will meet on Mulgrove Drive in ETOBICOKE south of Rathgar Avenue. LOOK FOR THE NATIVE PLANT garden on the west side of the street.
Contact SeedRougeRiver @ gmail . Com if you'd like to have a Weed Walk in your neighbourhood!
______________________________________________________________
Invasive plants are a growing problem. On January 1, 2022 Toronto amended its yard care bylaw to prohibit 10 species of invasive plants in Toronto yards and gardens -- increasing fines for violations to up to $100,000.
Environmental biologist Deborah Dale leads short walks to examine some of the common invasive plants that are threatening our parks, natural areas, and yards. Learn about the history of these plants, why they have become such a problem in our city, and what you can do to help reduce their spread.
Join your neighbours every month in Neilson Park to learn how to identify and manage invasive plants like buckthorn, garlic mustard, dog strangling vine, and knotweed; or come along on Weed Walks through other areas in Malvern/Rouge River on alternate Saturdays.
Participants will receive a free native plant and/or seed packets (native flower or vegetable).
Weed Walks follow social distancing guidelines, masks highly recommended. Please bring garden gloves/weeding tools if you want to dig into the subject! Family friendly event. In the event of severe weather, the walk may be cancelled or delayed. Dress for the weather. Long pants and closed-toe shoes recommended.
Can't make it? Send an email to SeedRougeRiver @ gmail . com to receive notices of future Walks or to suggest a Weed Walk in your neighbourhood. Help to educate your neighbours and yourself about this serious threat to our natural and private spaces.
Weed Walks are sponsored by the Invasive Species Centre microgrant program and will continue at various locations through October 2022. Please look for future Weed Walks!
Toronto Nature Stewards (TorontoNatureStewards.org) offers more opportunities to combat the threat of invasive species on public lands across Toronto.
Project Swallowtail (PollinatorPartnership.ca/en/project-swallowtail) works to connect communities street by street and empower residents to restore nature in Toronto.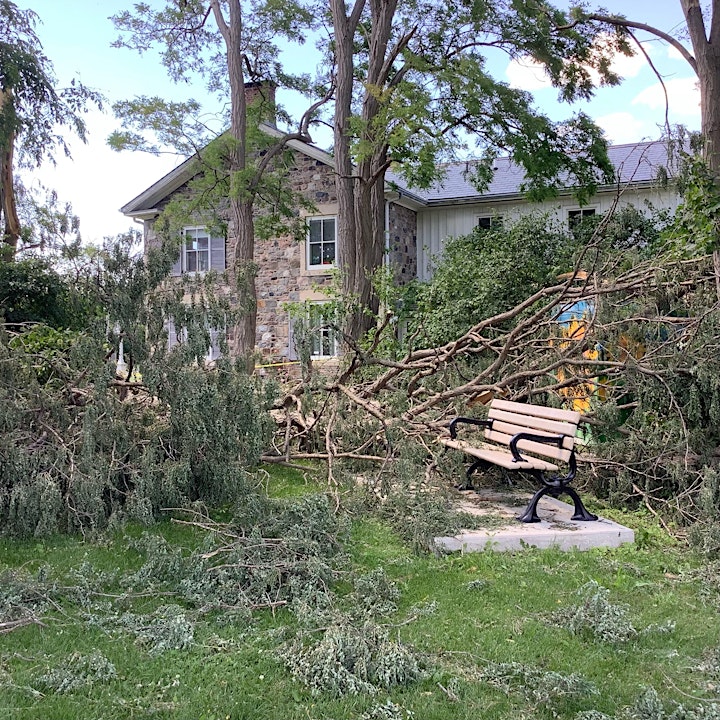 This is the meeting spot — don't worry, the fallen branches and caution tapes have all been removed.