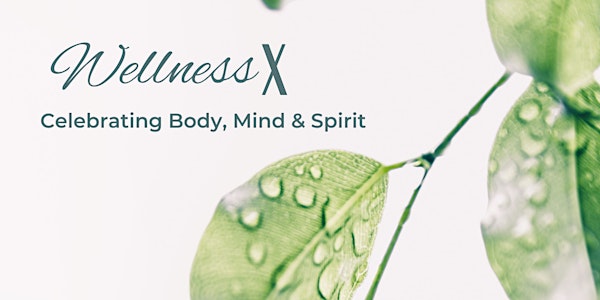 Wellness X
Looking for an event that is local and supports your total Self-Care needs?
When and where
Location
Venture X - Heartland 600 Matheson Boulevard West #Unit 5 Mississauga, ON L5R 4C1 Canada
About this event
Introducing, Wellness X hosted at Venture X in Heartland, Mississauga!
On April 23rd, 2022, 10 exhibitors are getting together to showcase their products and services that will change your life for the better. From health and nutrition, skin care, tarot, Feng Shui home design, air purification, and personal training!
This intimate, invitation-only event will allow you the chance to get to know these amazing brands and how their services and products can benefit the well being of your life!
Not only will you learn about how to advance your overall wellness, but all registered attendees will have their names submitted for our 10 prize giveaways at the event!
Let's Meet Your Exhibitors:
Krista Znebel - Nutritionist - Sprout Your Health
Krista is a Holistic Nutritionist who specializes in mental health and digestion based out of west GTA. She helps her clients restore balance to their body by improving their digestion, teaching them what foods are important to support optimal brain function and educating them on lifestyle recommendations to support their overall health and mental well-being.
Marco Capone - Personal Fitness Trainer - Fit Life Mastery
Marco is a Personal Trainer who helps his clients get in great shape and recover from past injury. He does this by providing effective guidance and fitness insights for his clients, as well as referring to our awesome Chiropractor, Dr. Krystyna Bellisario.
Mekisha Banks - Skin Care Specialist - EVERBELLA
Everbella is a naturally sourced holistic body care line. Our goal and intention with our products is to heal common skin conditions using simple ingredients from fair trade, eco-friendly suppliers and use uplifting methods to create your personal and unique self care ritual. Our products are changing the way people feel about their skin and their overall wellness.
Jan Courtin - Tarot Card Reader - Empower Tarot Coaching
I am an intuitive tarot reader and coach. I use the cards to tap the subconscious mind. A session will provide insight on many aspects of your life. If you are struggling with a decision, are wondering about a career change, or are simply curious, a reading with me will provide answers in an uplifting, positive and healing way.
Azadeh Razavi - Alternative Medicine, Homeopath and Nutritionist - Nutrition House (Heartland)
I have been Practicing Natural Medicine for the last 13 years. I address the root cause of your health concerns and dig deeper to find the underlying and often hidden causes of illness. I use advanced testing to diagnose root cause and natural medicines to treat my clients. My specialties are Hormonal imbalances, Inflammation, Digestive health and Metabolic Disorder.
Dr. Krystyna Bellisario - Chiropractor in Oakville and Etobicoke
I am an evidence-based chiropractor working in Oakville and Etobicoke. I help patients with short and long-term injuries through a mixture of education, exercise, manual therapy, and acupuncture.
Tasia Keeng - Home Wellness Designer - Lovelight Home Design
Enhance your home living experience and improve your quality of life with home wellness design. A whole new way of designing your space that combines science, design, Feng Shui and intuition. Each design is tailor-made to the wants and needs of the entire household at all wellness levels: mental, physical, emotional, medical, social, and environmental, to create a peaceful, joyful and prosperous space.
Ed Moressi - Health & Wellness Air Quality - Modern PURAIR
We are a full service indoor air quality company offering furnace and air duct cleaning, dryer vent cleaning and filter maintenance programs for your home or business. Clean Air… We live and breathe it!
Renu Arora - Energy Healer - Heal From Your Past
Uncover and release the emotional baggage at the root of your emotional, mental, and physical challenges with a powerful new healing modality called the Accelerated Release Technique (ART). Your subconscious is speaking. Are you listening?
Barbara Payne - Non-Profit Environmental Health Organization - EPIC
EPIC modernizes public awareness about everyday "electrosmog" and how to prevent it by promoting e-hygiene, PracticeSafeTech, education, and kindness to create healthier indoor and outdoor environments.