A collaboration between western Canadian post-secondary institutions highlighting great examples of blended design and delivery.
About this event
Blended learning has been identified as the most likely, and popular, option for educational delivery post-COVID. Many instructors have already been utilizing blended learning in their academic, applied, and professional programs, and yet more are looking at how best to design a blended experience that is both practical and effective. In this Blended Learning Showcase, faculty from across a wide range of institutions in BC, Alberta, and Manitoba will present their approach and insights on creating well-designed blended learning experiences.
This online event is FREE and open to any post-secondary instructor in Western Canada. You must register in advance. Registration is limited to 300 attendees. Each person who registers will be sent the Zoom connection info by email the day before the event. If you have any technical issues or require help, contact tbiffard@vcc.ca
** Note that ASL Interpreters will be present for the entire session **
EVENT SCHEDULE: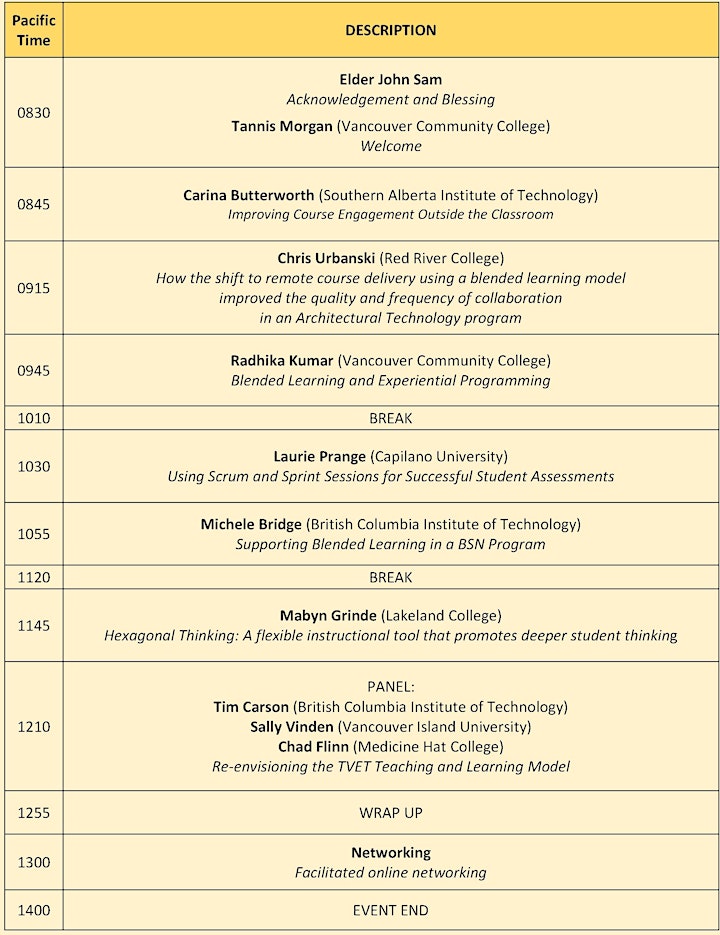 Vancouver Community College acknowledges its location on the traditional unceded territories of the Coast Salish Peoples and recognizes the xʷməθkʷəy̓əm (Musqueam), Sḵwx̱wú7mesh (Squamish), and səl̓ilw̓ətaʔɬ (Tsleil-Waututh) peoples who have been stewards of this land from time immemorial.
We also acknowledge that there are participants from across BC and Canada and we would like to recognize the traditional unceded territories from which you join us today.
This event is co-presented by:
Centre for Teaching Learning and Research, Vancouver Community College
Centre for Learning and Program Excellence, Red River College
DETAILED SESSION DESCRIPTIONS:
Improving Course Engagement Outside the Classroom (Carina Butterworth)
Student engagement outside of the classroom is often a challenge. Asking the students to complete work for class in advance for a blended learning flipped classroom accompanies many students who have every reason why they couldn't prepare. The tools available in the online environment have been essential in overcoming this challenge – including the use of preparatory worksheets/online tests that provide insight into the student technical and foundational knowledge so the face to face class can be used for activities and additional instruction. There are challenges to the instructor such as last minute preparation, but with using the right tools and having flexible lesson plans, the students can become more engaged to promote deeper learning in the course material. This presentation will highlight one successful blended initiative in a third semester Remote Sensing course in a Geomatics Engineering Technology program with the use of material pre-test worksheets online and interactive classes face to face.
How the shift to remote course delivery using a blended learning model, improved the quality and frequency of collaboration in an Architectural Technology program (Chris Urbanski)
In the Architectural Engineering and Construction (AEC) industries, collaboration is critical to the success of any project. In traditional course delivery, training students to collaborate has always been a challenge due to many factors; including time constraints, student engagement levels and physical environmental factors. This presentation will demonstrate how taking advantage of a combination of blended learning models fostered meaningful collaborative experiences, and as a result, improved the quality and frequency of collaboration in an Architectural Technology program.
Blended learning and experiential programming (Radhika Kumar)
This session will provide you with an overview of how a blended experiential program utilized key factors of online learning to enhance the instructor and student experience . Discoveries made in hindsight will now inform our blended learning delivery going forth. Join me as I share what we learned over the past year and hopefully inspire you to view your redesign using this lens.
Using Scrum and Sprint sessions for Successful Student Assessments (Laurie Prang)
Instead of the traditional Housekeeping part of your synchronous class or asynchronous week, what if you used the Scrum approach instead? Using Scrum, you would have a weekly check-in time for your students to report their progress on course assessments: To Do, Doing, and Done. Then, you'd follow this Scrum check-in with various Spring sessions to foster students' successful completion of assessments. Showing how theories from entrepreneurship studies can work in blended teaching and learning, this session will give you several small active learning activities using the Sprint framework. These small learning activities will support assessments with writing and library research components that have historically been challenging for students to complete independently outside classroom time.
Supporting Blended Learning in a BSN Program (Michele Bridge)
The Bachelor of Science Program (BSN) at BCIT recently developed and launched a new, partly blended curriculum. Once the curriculum was implemented, there was an opportunity to evaluate, revise and hone the courses. To help guide the process of curriculum maintenance and dynamic curriculum improvement, we created an Online Teaching and Learning Framework – a set of 12 core principles that inform the design and implementation of online components of courses within the program. With the recent pivot to more online delivery of theory courses during the pandemic this document served to help the program maintain fidelity to the original intention of the curriculum and was a fantastic faculty development tool that championed a consistent interpretation and implementation of online components. This presentation introduces the BSN Online Teaching and Learning Framework and discusses its use and implementation process.
Hexagonal thinking: A flexible instructional tool that promotes deeper student thinking (Mabyn Grinde)
While hexagonal thinking is not a new idea, it is a thinking tool that is easily adapted to various teaching modalities including blended, online and F2F. Join Mabyn Grinde as she explores how hexagonal thinking is being used at Lakeland College to support the question "how might we design learning experiences that engage students in deeper, better connected, and more reflective discussions?"
Re-envisioning the TVET Teaching and Learning Model (Panel: Tim Carson, Sally Vinden, Chad Flinn)
Traditionally TVET education has followed a common structure of lecture and labs. With the switch from emergency remote delivery to Intention blended online delivery, its now time to rethink how TVET approaches education in the 21st century, recognizing that tensions exist withing existing program outlines and the needs of progressive education.