Description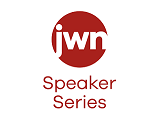 Effective recognition programs are essential to help create and maintain a motivated workforce. Building a culture of recognition requires careful cultivation of the link between behaviour and outcome as well as awareness of the importance of recognizing employees regularly. This makes the tie to performance that much more transparent for employees.
Issues covered in this Speaker Series include:
Which are the most effective recognition programs or practices that companies are currently using to promote employee recognition?
Which recognition vehicles have employers started, or stopped, using?
Insights into the greatest enablers of successful recognition programs.
How can companies measure or quantify recognition outcomes?
What are the main obstacles to program success?
---
Meeting Room: Mayfair

Program:

3:00pm - Guest Arrival & Networking
3:45pm - Welcome - Bemal Mehta, Senior Vice President, JWN
3:50pm - Sponsor Remarks:
Sam Gagnon, Sr. Director, Client Solutions, O.C Tanner
Caroline Berglund, Senior Consultant, Aon Hewitt
3:52pm - Speaker Presentations:
Gary Beckstrand, Vice President, O.C. Tanner Institute
Neil Shastri, Leader—Global Insights & Innovation, Aon Hewitt
4:25pm - Q&A and CLosing Remarks - Bemal Mehta, Senior Vice President, JWN
4:40pm - Networking
---
FAQs
Where can I contact the organizer with any questions?
Please contact the organizer by email regsupport@jwnenergy.com or phone 1-866-671-2778


Do I have to bring my printed ticket to the event?
No, when you arrive onsite at the event please check in at the registration desk.


What if I have a name substitution?
Substitutions can be facilitated by editing your account information through the online registration system, alternativly you can email or phone us: regsupport@jwnenergy.com or phone 1-866-671-2778
---
What is your privacy policy?
Please complete this form to register for this industry sponsored event. Personal information you disclose to JWN is collected, used and disclosed subject to the terms and conditions of JWN's privacy policy, which may be reviewed at this link. By providing this personal information, you consent to it being disclosed to the event sponsor(s) to be used solely for their business development purposes. By registering for this event JWN may contact you by email regarding relevant industry news, offerings and events.
Exclusive Event Sponsors