Description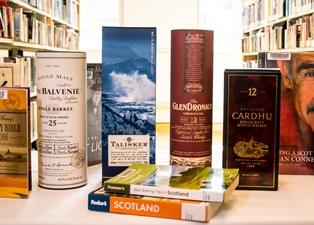 Join us for the 4th annual Whisky Library Fundraiser! A fantastic fundraising event for the Trish McMordie Memorial Fund, benefiting the Youth Services Department of the North Vancouver District Public Library.
The evening features five specialty whisky tastings, live literature readings from local notables, a silent and live auction, live music from The Black Bear Rebels, delicious food, and a delightful chocolate table highlighting the perfect whisky-chocolate pairings!
2018 feature Whisky Advocates and Readers are:
A great line-up to be revealed. STAY TUNED!
Whisky Tasting Ticket | $80
Includes tastings for five delicious whiskies and light appetizers. Want to enjoy a whisky or two but not have five? Share them with a friend! You'll receive five transferrable tickets at the event. As long as all of the people in your party have a Non-Whisky Ticket for entry, they can share in your fun.
Non-Whisky Ticket | $40
Includes one non-whisky beverage and light appetizers.

Doors at 7:00pm. Tastings and readings start at 8:00pm. Cash bar. Attendees must be 19+ for entry.
By attending this event I agree that:
1) I am above the age of 19 as of Saturday, May 12, 2018.
2) I will make arrangements to transport myself to and from the event safely and in accordance with the law.


---
About Trish McMordie
by Allan McMordie
Trish loved to read. She always had at least two books on the go at one time, a couple books from the library and one or two on her e-reader.
She spent much of her life teaching kids how to read and to also love reading.
She would read a chapter book to our kids at breakfast every morning as an incentive for them to get up and get to the table. Both of them are avid readers today.
Trish is the only person I knew who had her library card number memorized. I know she had a special exemption on her card that allowed her to take out more than three books on one subject at a time. Trish would have at least a dozen books from the library in her classroom at Larson School that shared a common theme with what she was teaching at the time. Many North Vancouver children learned to love books and reading in Mrs. McMordie's classroom.
Trish died from a brain tumour in October of 2013. It is fitting that in her memory, the staff and families at Larson School and Trish's other friends and family have started the Trish McMordie Memorial Fund at the North Vancouver District Library. In 2014, the first piece of furniture- the Sit and Play Snake- was installed and has since been enjoyed by many children visiting the library.