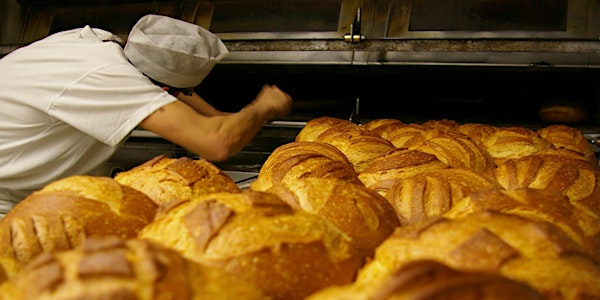 Worker Cooperative Summit
When and where
Location
Peterborough Dialogues (Axiom News) 294 Rink Street, Suite 201 Peterborough, Ontario K9J 2K2 Canada
Description
What If We Created a Multi-Stakeholder Cooperative Bakery that Offers Former Inmates, Their Families, and Our Community a Fresh Start?
As a restorative community we can partner in ensuring the successful reintegration of former inmates and launch a magnetic, leading edge, fun, and thriving new economy business.
We are on a journey to engage the community in dynamic ways in the founding, funding, and thriving of a fun, whole-life, multi-stakeholder cooperative bakery for former inmates.

Would you like to be part of creating this new economy business that fosters a holistic approach to developing work and life skills for former inmates and their families? Working from restorative community development practices we can partner with former inmates as they reintegrate into community. Let's create a coop embraced and celebrated by our community members through their participation and patronage.

A small group of citizens, with the support of community organizations, are hosting a half-day summit to connect, learn, and make plans to launch a cooperative bakery owned and operated by former inmates and other community members.


If you would like to:
Cultivate a space that nourishes community and demonstrates we all have gifts and skills
Create something that speaks loudly of hospitality and hosts community members of all ages
Experience a restorative, sustainable, and cooperative approach to welcoming former inmates into healing and community
Make a difference in people's lives by purchasing fresh baked goods from the coop

Launch a business that helps to heal our community
Stand at the ribbon-cutting celebration of its opening

Please join us for this half-day Worker Cooperative Summit:

Monday, June 19, 2017
8:30 a.m. - 1:00 p.m.
Axiom News Studio
294 Rink Street, Suite 201
Doors will open at 8:00 a.m. and we will begin in earnest at 8:30 a.m.


IT IS IMPORTANT THAT YOU REGISTER for this event so we can design the day, set the room, and provide just the right assortment of morning snacks and refreshments.

By bringing together the best practices in community engagement, restorative practices and new economy principles we can be a shining light to other communities. This cooperative approach has the potential to break the cycle of recidivism and be a game changing alternative to the current, ineffective, inhumane, and very costly justice and correctional system.

We have a history of using the social enterprise model in order to create pathways into the workforce for those who face barriers such as lack of education, histories with the justice system, and lack of work experience. The cooperative model goes one step further in fostering a culture crucial to reintegration and the creation of a commercially successful business.
Imagine the pride and hope former inmates will develop in working hard, having a decent job and a stake in the future of the business and the opportunity of earning a living income that exceeds the industry norm.

Not for, not to, but with. We are stronger together. Successful reintegration is everyone's concern. How it plays out affects all of us.

This is a chance to express our highest aspiration for community supported by our best practices of civic engagement. We can place inclusion and hospitality at the centre of our way of being.

To read a blog series by Ralph Gutkin on Exploring a Community-based Response to Our Criminality Crisis, click here.


This Summit is being made possible by the generous support and in-kind services of the Resonance Centre for Social Evolution. The event is being hosted by members of the Peterborough Dialogues Hosting Circle. The John Howard Society is making a contribution to food and refreshments.