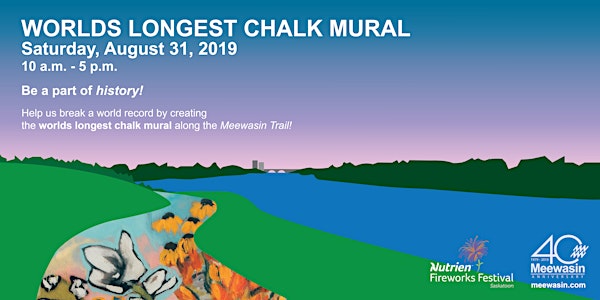 World's Longest Chalk Mural
When and where
Location
Multiple Locations Meewasin Trail Saskatoon, SK Canada
Description
Join Meewasin in breaking the world record for the longest sidewalk chalk mural! Taking place on August 31st, 2019, Meewasin is providing the public with free chalk to fill a connected 6km x 2m section of the Meewasin Trail!
The whole mural must reflect a 'Meewasin Valley' theme. Some ideas of what to draw area: Animals, plants, insects, flowers, trees, river, community, people, birds, trails, recreation (canoes, running, biking, skiing) nature, flowers, etc.
Please read through the Guineess World Record Guidelines of the event and let us know if you have any questions or concerns. All participants, and witnesses should read though the document.
As a chalker, you'll need to register for either the 10am or 1pm start time associated with the area that you're interested in covering so that we ensure we have enough at each station!
On the day of the event, we'll have tables set up at each of these locations that you'll need to visit and receive chalk and some brief instructions.
6 Locations will serve as the registration and starting points of each section. (We've had to adjust some of the locations to better accommodate construction projects and traffic. Please review the areas carefully)
These Locations are:
- Top of the Circle Drive North Bridge (East side of the river/Stew Uzelman Pedway)
- Under the University Bridge (East side of the river)
- Top of the CPR (Train) Bridge (University Side)
- Behind the Nutrien Wonderhub (West side of the river)
- Bottom of the CPR (Train) Bride (West side of the river)
- Behind the Diefenbaker Canada Centre (East/University side of the river)
Thank you to the following sponsors!
Cervus Equipment
Nutrien Fireworks Festival
Pelican Signs & Decals
Saskatchewan Indian Gaming Authority

Bring family, friends and be part of history!
Use the Hashtag #MeewasinRecord on Instagram, Facebook and/or Twitter leading up to or at the event to get your name entered to win a prize pack! (Winner announced September 6th 2019)