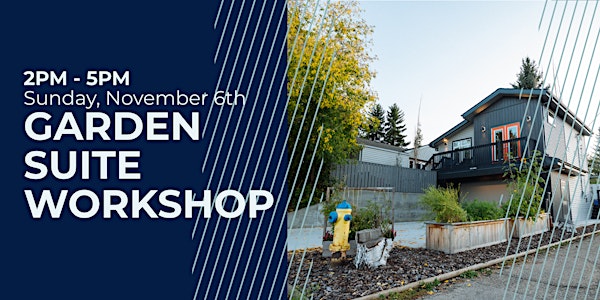 YEGarden Suites Deep Dive Workshop
Join us for YEGarden Suites' Deep Dive Workshop. This workshop provides attendees with an in-depth look at garden suites.
When and where
Location
Mill Woods Senior and Multicultural Centre 2610 Hewes Way Northwest Edmonton, AB T6L 6W6 Canada
Refund Policy
Contact the organizer to request a refund.
Eventbrite's fee is nonrefundable.
About this event
Join us for YEGarden Suites' Deep Dive Workshop. This 3 hour workshop provides attendees with an in-depth look at garden and garage suites in Edmonton. If you are considering building a backyard home, and want to know if it would be right for you, this workshop is a must. Past YEGarden Suites workshop participants have found information at these sessions crucial for understanding this significant financial decision, saving them time, money, and headaches. The value of preparing to develop your property by connecting with expert who have built Garden Suites cannot be overstated.
This event covers everything from rules and regulations, City bylaws, and costs, to challenges, the building process, and property analysis. 
EVENT HIGHLIGHTS
City of Edmonton on Garden Suites
Presenting the latest Garden Suite rules & regulations. You'll learn what types of lots can accommodate a Garden Suite, what rules your suite must conform to, how big it can be, how it can be oriented, and the permitting process.
Subdivision & Development Appeals Board (SDAB)
If you'd like to build something outside the typical rules and regulations for Garden Suites, you may have to present before the SDAB. We'll help to explain the process, and the procedure for speaking to this quasi-judicial body.
Utility Considerations for Garden Suites 
Utility connections are an important consideration, prior to deciding to build a suite. We'll walk you through the best case options for connecting your Garden Suite to utilities, and what to do/how much it costs to overcome any challenges associated with different utility connections.
Financing & Budgeting for a Garden Suite 
Hear the options for financing a garden suite from a CIBC Mortgage and Finance specialist, and receive a budget template. 
Builder and Designer Showcase
You'll have the opportunity to get to know Edmonton's leading builders and designers of Garden Suites. Different builders and designers will each give a short presentation on their work and what they can offer you.
Builder and Designer Q&A
We will be holding a discussion where we will cover the process to build a suite, costs associated with Garden Suites, challenges, etc. and any other questions generated from our audience. 
Design Principles & Considerations for Garden Suites 
We will be providing a brief overview of design considerations for garden suites, including how to design a barrier free suite (fully accessible), so that you can tap into the City's incentives. 
Garden Suite Site Analysis and Zoning Information
We'll take you through an example lesson looking at a Real Property Report (RPR), and lay out considerations for where a garden suite can be located on that lot. We will also identify things to watch out for and what properties are the best fit for a garden suite. Finally, we'll show you how to look up your own property, and see any information such as neighbourhood overlays, or parking reduction zones. 
We encourage you to bring your own Real Property Report, if you have one, so that you can work through it with us.
Post Workshop Questions and Networking
We invite you to stick around after the formal part of the event to mix, mingle, and ask questions of industry experts and speakers. If you have any lingering questions, or want to set up a following-up meeting with an industry expert, now is the time to do so. 
Hope to see you there!
FAQs
What are my transportation/parking options for getting to and from the event?
Parking is available nearby the Mill Woods Seniors and Multicultural Centre. If you are taking public transit, the building is serviced by a variety of bus routes. If you are not sure how to get to the Mill Woods Seniors and Multicultural Centre, try using this Edmonton Transit Service trip planner: https://www.edmonton.ca/edmonton-transit-system-ets. Please give yourself enough time to arrive early. We will be starting at 2PM sharp. 
How do I get to the Mill Woods Seniors and Multicultural Centre?
The Mill Woods Seniors and Multicultural Centre is located at 2610 Hewes Way NW. The event will be held upstairs in the gym.
Can I purchase tickets at the door? 
No tickets are available for purchase at the door.
How can I contact the organizer with any questions?
Please email travis@yegardensuites.com or call 780-901-9421.
Do I have to bring my printed ticket to the event?
You do not need to bring a printed ticket to the event. You will just need to tell us your name at the door. 
Are food and refreshment provided? 
Yes. Coffee, and donuts will be available.
Do I need to bring anything with me? 
Please bring a notebook and pen.