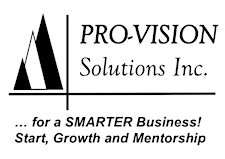 Pro-Vision Solutions Inc.
Pro-Vision Solutions Inc. was incorporated in August 2002 in Edmonton, Alberta (Canada) by co-founders, Jim and Myrna Ewing.

We collaboratively work with entrepreneurs, communities and organizations who assist small businesses, to start, grow and succeed!
    
Our Vision: We are an innovative collaborator, supporting entrepreneurs with a SMARTER business start, growth, development and mentorship!

Our Mission: We work with entrepreneurs and those who assist them, helping them and their communities develop NEW businesses, create NEW jobs, and stimulate NEW investment.


We provide Business Coaching, Business Plan Writing and Review Services, as well as assistance with Presentation Preparation for entrepreneurs.

We provide Customized Seminars, Workshops and Facilitate Special Events for business and community organizations around related entrepreneurial, business and communications topics.