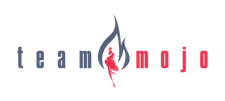 Team Mojo
The most important leadership skills today are communication and emotional intelligence.
You may feel like you don't have the right ingredients to fuel a collaborative culture or are just missing the foundational skills to effectively communicate vision and priortities with your team. Perhaps you struggle to change their behaviour and need help with motivating them to solve problems quickly and achieve more meaningful results. 
What is 'mojo' anyway?
You know that feeling when you have a lack of energy, creativity and drive? That is NOT mojo! Mojo is the ability to pivot, create and grow effortlessly. Mojo happens when you have an environment of trust, open feedback, creative problem-solving, respectful conflict and friendship at work. Crazy, right? Nope, that's mojo. 
Team Mojo takes sales and marketing professionals from toxic conflict to a state of mutual respect and smashing productivity! We offer leadership coaching to help professionals be the best version of themselves and create the best teams. 
We are certified coaches and business people with years of leadership, sales, and marketing experience that work with emerging leaders to position yourself and your team for success. 
Sorry, there are no upcoming events