Live show is happening October 22 & 23 in Guelph. We are now SIX artists at Bonnie Glass's place for our Wearable Art Venture.
About this event
Hello Beautiful People,
In less than two weeks from now, I am opening up my home once again for what is starting to feel like a party. There will be six of us plus the amazing work of one "silent" artist, my sister, Cathy Kruysse whose objects d'art, just arrived from Edmonton. On the front terrace, you will be greeted by Laura Levitt's booth of DeJaVu Designs who does eclectic funky clothing in the front of my place. Once inside you will be greeted by charming Pix Martin who will direct you. The original four artists are scattered through the house and the guys from Lord Norman - Chain Maille Jewelry - are on my back deck where I am writing this newsletter. Richard Crossman is part and parcel of Lord Norman and he is also an incredible costume designer. He will come dressed as one of his delightful characters so you are in for a treat. All these artists are such friendly people and even if the weather isn't co-operative, we will still have a great time. And we'd love for you to come and join in!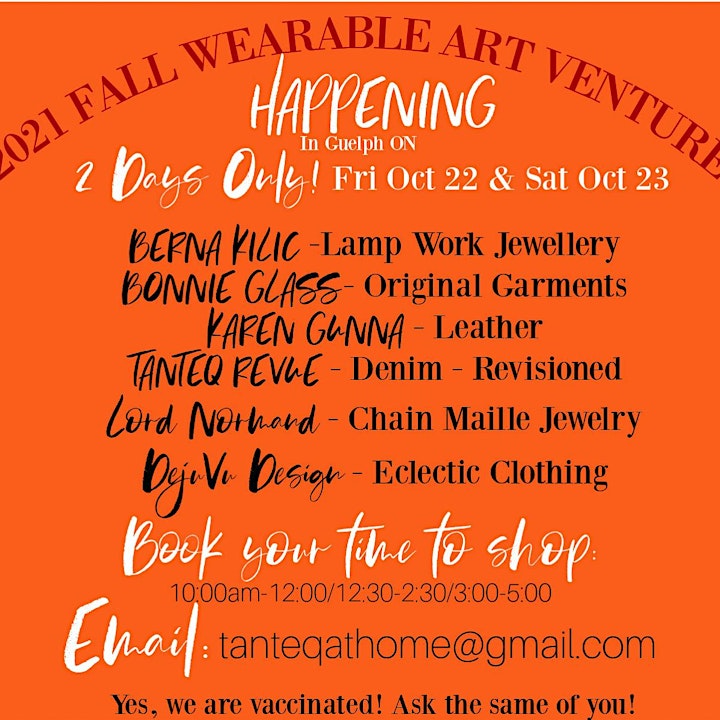 Organizer of 2021 Fall Wearable Art Venture