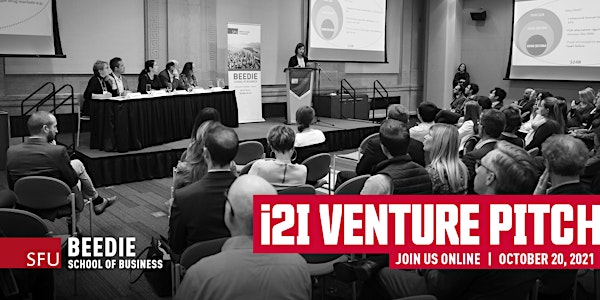 2021 Invention to Innovation Venture Pitch Competition
Register today to attend the 2021 SFU 'Invention to Innovation' Venture Pitch Competition.
By SFU Beedie School of Business
Date and time
Wed, Oct 20, 2021 6:00 PM - 8:00 PM PDT
About this event
At this event celebrating research and entrepreneurship, graduating students of the Invention to Innovation program will pitch their product-ready ventures or their emergent ventures to our panel of expert judges. This year's event will be hosted in a digital format with interactive opportunities to connect, learn, and celebrate innovation.
Date: Wednesday, October 20, 2021
Time: 6 :00 p.m. - 8 :00 p.m. Pacific Time
Location: Online
Inquiries: beedie-events@sfu.ca
The Zoom link to access the webinar will be shared by email to registrants the day prior to the event (October 19).
ABOUT THE INVENTION TO INNOVATION (I2I) PROGRAM
This innovative program has empowered five cohorts of PhD, post-doctoral fellows, and researchers to become scientists-entrepreneurs, champions of innovation in industry, translational scientists, and knowledge mobilizers. The programming uniquely addresses the high uncertainties, costs, challenges, and long timeframes that generally face science-based ventures.
We're excited to announce that aspiring scientist and technology entrepreneurs across Canada can now access SFU Beedie's i2I program with the launch of the Mitacs i2I Skills Training this fall. Delivered in partnership with Mitacs, the program will offer an East and West cohort with the Eastern offering being delivered in partnership with Queen's University.
This Skills Training adaptation of i2I won international recognition earlier this year after the pilot offering was highlighted among the annual Innovations That Inspire named by AACSB International (AACSB) — the world's largest business education network.
"Our goal with the Invention to Innovation program is to help Canada's world leading scientists and engineers get the perspective they need to lead innovation throughout their careers," says Elicia Maine, academic director of the Graduate Certificate in Science and Technology Commercialization. "This will be a huge advantage to them and to our economy, as these scientist-entrepreneurs will understand the importance of early stage market assessment, be more comfortable managing under uncertainty, and will be able to lead New Product Development, either within their own venture or for an existing firm."
About the organizer
The Beedie School of Business is a part of SFU: The Canadian university that is Engaging the World