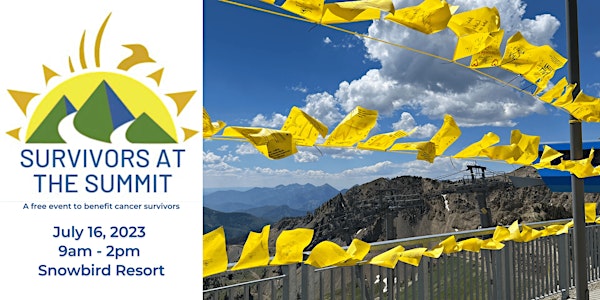 2023 Survivors at the Summit
SURVIVORS AT THE SUMMIT - an annual free event to benefit Survivor Wellness, a community resource for cancer survivors and their loved ones.
Date and time
Sun, Jul 16, 2023 9:00 AM - 2:00 PM MDT
Location
Snowbird Resort Snowbird Center Drive Sandy, UT 84092
About this event
Held annually for 26 years, Survivors at the Summit celebrates the triumph of the human spirit, pays tribute to the courage and determination of those affected by a cancer diagnosis, and honors the memory of lives lost to cancer while supporting programming for the cancer survivor community at Survivor Wellness.
REGISTRATION IS FREE; all participants must register to attend. Your additional donation directly benefits Survivor Wellness, a unique community resource center in Salt Lake City.
Held at Snowbird Resort, this event takes place on the Plaza and at the summit of Hidden Peaks! Our gratitude to Snowbird Resort for their continued sponsorship.
Registration includes:
The Mountain Breakfast (on the Plaza at Snowbird), with activities for all
A Snowbird Tram Ticket
The Summit Lunch at Hidden Peaks, with yellow Tribute Flags* flying over the mountain
The Celebration of Life Ceremony, honoring those affected by cancer, held at the summit of Hidden Peaks
And more
Agenda:
9 - 11 am | Mountain Breakfast on the Plaza, with music and activities
10 am - 12 pm | Ascent to Hidden Peak (Hike/Ride/Run/Tram to the top)
12 - 1 pm | Lunch at the Summit, Viewing of the Tribute Flags and activities
1 - 2 pm | Celebration of Life Ceremony
This event has a capacity of 500 attendees.
"You never think it's going to be you. I received great medical care, but I still needed more treatment. I needed wellness. I needed a place to get my life back. And that's what Survivor Wellness gave me. It gave me back my hope." - Ed | Cancer Survivor
FAQs
What is Survivor Wellness? 
Survivor Wellness is a 501(c)3 not-for-profit organization that provides supportive services to anyone affected by cancer - patients, survivors, caregivers, and family members. Proceeds from Survivors at the Summit support Survivor Wellness' programs and services. Learn more at https://survivorwellness.org/
What are Tribute Flags?
The tradition of Tribute Flags began with the first Survivors at the Summit when a group of survivors took two days to hike to the top of Kings Peak, carrying heavy bundles of flags in their packs which were displayed at the summit. Each flag bears a message of love, hope, honor and remembrance. For the participants, the journey to the summit with their flags was a means of reaching new peaks of resilience and ability despite a cancer diagnosis. We continue the tradition of Tribute Flags to honor those we've lost and to show the triumph of the human spirit despite all odds.
Your donation for a set of Tribute Flags or for an individual flag supports programming at Survivor Wellness. Thank you in advance for your contribution to this remarkable community resource center!
How can I get my own Tribute Flags? 
Tribute Flags fly at the summit of Hidden Peaks during Survivors at the Summit.
Tribute Flags are available for an additional donation when you register for Survivors at the Summit: $300 for a set of ten flags, or $30 for an individual flag.
See "Add-Ons" to make a donation and receive your flag or set of flags, as well as instructions on how to see your flag flying at the summit!
Tribute Flags can be picked up from our offices at 59 South 1100 East, Salt Lake City during regular business hours - call to schedule your pickup. Flags may be claimed after the event as a keepsake; contact our offices to pick up after the event.
Flags may be hand-carried to the summit on the day of the event, or brought to Survivor Wellness in advance to be displayed on your behalf. Be sure to read the instructions on your email after making your donation, or contact us with questions.
How can I contact the organizer with any questions? 
Call 801-236-2294 or email helpdesk@survivorwellness.org
Who may attend?
This event is open to all who wish to honor those affected by a cancer diagnosis - patients, caregivers, loved ones, friends, support staff (clinicians, doctors, social workers) and all who wish to support Survivor Wellness, a remarkable community resource center for the cancer survivor community.
Will there be vegetarian and vegan meal options available?
Yes
Is this an in-person event?
Yes
Thank you to our sponsors!
About the organizer
Survivor Wellness is dedicated to improving wellbeing and quality of life for Cancer Survivors, their families and caregivers - from the moment of diagnosis throughout their lifetime - by providing Survivors with personal support and integrative health care programming & services at free- or reduced-fee rates in a welcoming, home-like environment.