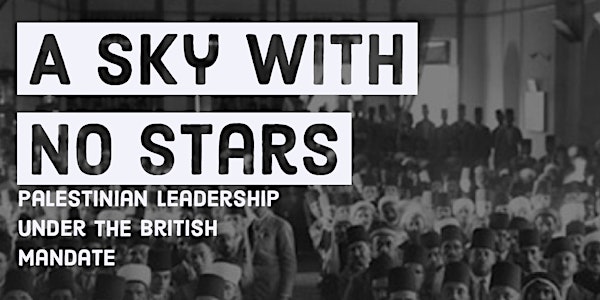 A Sky with No Stars: Palestinian Leadership & Resistance under the Mandate
Location
Kwantlen Polytechnic University
12666 72 Avenue
Surrey, BC V3W 2M8
Canada
CCMS, the Caucus and RECLAIM present A Sky with No Stars: Palestinian Leadership & Resistance under the Mandate.
About this event
The birth of the British Mandate saw the emergence of Palestine's urban notables as the representatives of Palestine and the leaders of the Palestinian national movement. The Nakba, which resulted in the ethnic cleansing of 750,000 Palestinians from their homeland, brought the era of notables to a decisive end. Separated from their property and dislodged from their positions of power, the notables' unceremonious fall from grace was punctuated by an almost universal charge of incompetence. In the court of Palestinian public opinion, as well as within the pages of history, Palestine's urban notables have been indicted for the crime of losing Palestine.
This talk seeks to explore how it came to be that a social class which rose to such great heights in the Ottoman era came to perform so poorly on the biggest stage in Palestine's anti-colonial fight for survival.
Venue: Cedar Conference Room (1205) @ KPU Surrey - 12666 72 Ave, Surrey, BC V3W 2M8
Time: Doors will open at 5:30 pm. The lecture will begin at 6 pm.
*Dinner will be catered by Tamam: Fine Palestinian Cuisine. Please note that due to limited seating, we will only be admitting participants who have signed up for tickets on Eventbrite.
Speaker bio: Bassam Abun-Nadi is an educator, researcher, and community activist with over 7 years of experience creating and delivering learning content. He is the Director of RECLAIM, a grassroots organization that works with schools, school districts, post-secondary institutions, and student groups to address and combat manifestations of Islamophobia and anti-Muslim bigotry at the curricular and pedagogical levels. RECLAIM deploys narrative identity as a tool for the deconstruction of the Muslim experience, with the end goal of transforming Muslims into the protagonists of their own stories (rather than the antagonists or peripheral extras in somebody else's story). He has a B.A in Political Science from SFU and completed his MEd at UBC in 2017, where he specialized in the impact of globalization on education reforms in the Middle East.
He is also the host of the podcast PreOccupation: A Not-So-Brief History of Palestine. The podcast is a deep dive into the social, economic, and political histories of Palestine (and the post-Ottoman mashriq as a whole).
He the son of Palestinian parents, and a father to Palestinian children.
Thank you to our following sponsors and collaborators: SFU School for International Studies, SFU Institute for the Humanities, The Caucus, MENA Film Festival, Toronto Palestine Film Festival, Simon Fraser Student Society, SFU Students for Justice in Palestine, Independent Jewish Voices - Vancouver Chapter, The West Coast Coalition Against Racism.