Description
Tickets are now available!


About a month ago we kicked off Supafrik season with our Afrobeats Pop-Up & Party. It was a sold out affair filled with good vibes, great music, delicious street food and amazing designers/creators. This has been an annual event for the past five years. We had such a good time at this beautiful secret venue but we got so many complaints from people who couldn't purchase a ticket before it sold out. The good news is that we have decided to bring it back at least one more time this summer. Sunday July 21st. 3pm - 9pm. With DJ Stefane B (NYC/Paris), DJ Camron and Black Stars Collective. Strictly Advance tickets only! The venue is both indoors and outdoors. So we are doing this rain or shine!
Vendors, artists and designers, please send me an email to shop@supafrik.com if you are interested in applying for a spot in the pop-up.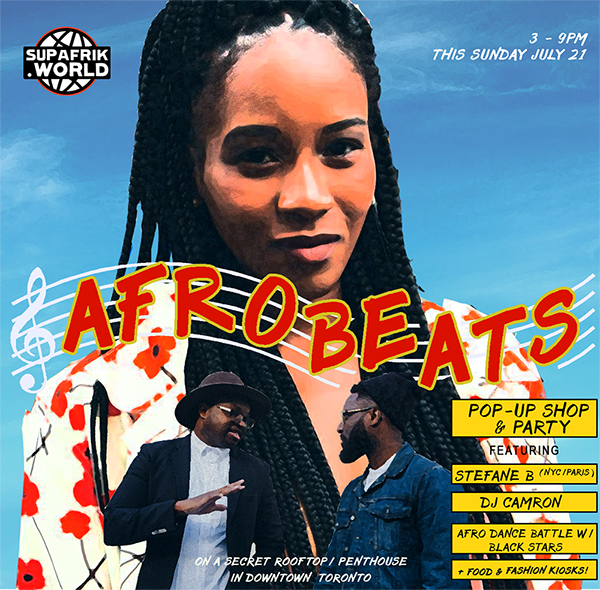 Black Stars Collective got an incredible opportunity to travel to Ghana through Dance Immersion to celebrate PANAFEST 2019 "RE-UNITING THE AFRICAN FAMILY "BEYOND 400 YEARS; REACHING ACROSS CONTINENTS INTO THE FUTURE". We are raising money to help support our dancers so they can have their expenses covered and can mainly focus putting on an amazing show and celebrating the culture and diversity within the Afrobeats Community. Simply click here and we will donate 50% of your tickets towards the Black Stars travel expenses.
Ps It's Supafrik Season! Here are some of our other amazing events taking place soon:
Up Next: August 1: GumboBana Our annual Caribana Thursday Fête
---
Up Next: July 7. Gumbo Africana! After Afrofest with Naija Boi (Mr Eazi/Fuse ODG).
Up Next in Toronto: June 29. We are excited to be hosting (via #WeAreGumbo) Everyday People for their long awaited Toronto debut. If you don't know about EP, hit their IG then Hit the link in our bio for limited tickets!