Description
Exhibition Tour with Ryan Rice
Thursday, October 17, 2019
6:30 p.m.
Onsite Gallery
199 Richmond St. West
Free event as part of Onsite Gallery's public event program for ᐊᕙᑖᓂᑦ ᑕᒪᐃᓐᓂᑦ ᓄᓇᑐᐃᓐᓇᓂᑦ / Among All These Tundras.
Join Ryan Rice for an exhibition tour of ᐊᕙᑖᓂᑦ ᑕᒪᐃᓐᓂᑦ ᓄᓇᑐᐃᓐᓇᓂᑦ / Among All These Tundras, a group exhibition that features contemporary art by Indigenous artists from around the circumpolar world.
Ryan Rice, Kanien'kehá:ka, is an independent curator and the Associate Dean in the Faculty of Liberal Arts / School of Interdisciplinary Studies at OCAD University, Toronto.
His curatorial career spans 25 years in museums and galleries. Rice served as the Chief Curator at the IAIA Museum of Contemporary Native Arts in Santa Fe, New Mexico, and also held curatorial positions at the Indigenous Art Centre (Ottawa, ON), named curatorial fellowships with the Art Gallery of Greater Victoria (Victoria, BC) and the Walter Phillips Gallery (Banff, AB), and held the position of Aboriginal Curator-In-Residence at the Carleton University Art Gallery. He received a Master of Arts degree in Curatorial Studies from the Center for Curatorial Studies, Bard College, New York; graduated from Concordia University with a Bachelor of Fine Arts and received an Associate of Fine Arts from the Institute of American Indian Arts, Santa Fe, New Mexico. Rice's writing on contemporary Onkwehonwe art has been published in numerous periodicals and exhibition catalogues, and he has lectured widely. Some of his exhibitions include raise a flag: works from the Indigenous Art Collection (2000-2015), ANTHEM: Perspectives on Home and Native Land, FLYING STILL: CARL BEAM 1943-2005, Oh So Iroquois, Scout's Honour, Hochelaga Revisited, Soul Sister: Re-imagining Kateri Tekakwitha, Counting Coup, and Stands With A Fist: Contemporary Native Women Artists. Rice was also a co-founder and former director of the Aboriginal Curatorial Collective and currently sits on the Inuit Art Foundation Board of Directors. His recent curatorial projects include the touring exhibition BAIT: Couzyn van Heuvelen and the Nuit Blanche 2019 project with the Placeholders collective, Listen to the Land.
ᐊᕙᑖᓂᑦ ᑕᒪᐃᓐᓂᑦ ᓄᓇᑐᐃᓐᓇᓂᑦ
Among All These Tundras
September 18 to December 7, 2019
ᐊᓯᓐᓇᔭᖅ
asinnajaq
ᓛᑯᓗᒃ ᐅᐃᓕᐊᒻᓴᓐ ᐸᑦᑑᕆ
Laakkuluk Williamson Bathory
ᑲᕈᓚ ᑯᕋᕼᐊᓐ
Carola Grahn
ᒫᔾᔭ ᕼᐋᓕᓐᑐ ᐅᓇᓗ ᓵᒥ ᕕᓐᓚᓐᒥᐅᑕᖅ
Marja Helander
ᖃᑉᓗᓯᐊᖅ
Kablusiak
ᓵᓐᔭ ᑲᓕᕼᐅ-ᑰᒻᔅ
Sonya Kelliher-Combs
ᔪᐊᖅ ᓇᓐᑰ
Joar Nango
ᑕᕐᕋᓕᒃ ᐹᑐᔨ
Taqralik Partridge
ᐱᐅᓕ ᐸᑐ
Barry Pottle
ᐃᓅᑎᖅ ᓯᑐᐊᑦᔅ
Inuuteq Storch
ᑲᔨᓐ ᐸᓐ ᕼᐅᕕᓕᓐ
Couzyn van Heuvelen
ᐊᓕᓴᓐ ᐊᑰᑦᓲᒃ ᒍᐊᑕᓐ
Allison Akootchook Warden

ᑕᑯᔭᒐᖃᕐᕕᖕᒥ ᑲᒪᔨᑦ: Hᐃᑐ ᐃᒡᓗᓕᐅᖅᑎ, ᐋᐃᒥ ᐳᕈᑎ ᐊᒻᒪᓗ ᓴᕆᓴ ᐹᓐ ᕼᐃᐅᓕᒐ
Curated by Heather Igloliorte, Amy Dickson and Charissa von Harringa
ᓴᕿᑕᐅᔪᖅ ᐊᒻᒪᓗ ᑐᓂᔭᐅᔪᖅ ᑖᒃᑯᓇᖓᑦ ᓕᓄᑦ ᐊᒻᒪᓗ ᐲᓇ ᐊᓕᓐ ᓴᓇᖕᖑᐊᖅᓯᒪᔪᓂᒃ ᑕᑯᔭᒐᖃᕐᕕᒃ, ᑳᓐᑯᑎᐊ ᐃᓕᓐᓂᐊᕐᕕᒃᔪᐊᖅ
Produced and circulated by the Leonard & Bina Ellen Art Gallery, Concordia University

Among All These Tundras, a title taken from the poem 'My Home Is in My Heart' by famed Sámi writer Nils-Aslak Valkeapää, features contemporary art by Indigenous artists from around the circumpolar world. Together, their works politically and poetically express current Arctic concerns towards land, language, sovereignty and resurgence. Click here to read more.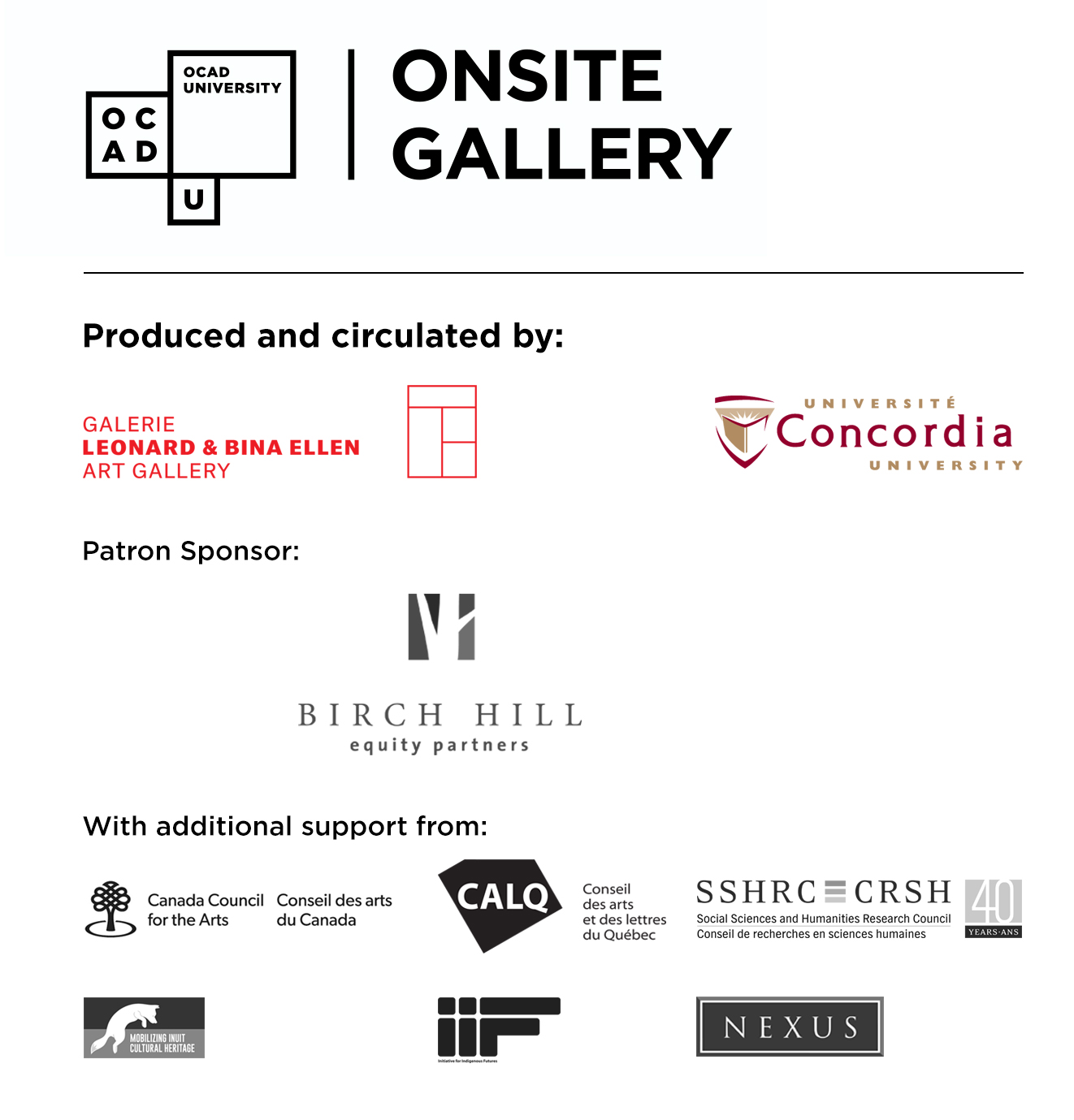 Onsite Gallery is the flagship professional gallery of OCAD U and an experimental curatorial platform for art, design and new media. Visit our website for upcoming public events. The gallery is located at 199 Richmond St. W, Toronto, ON, M5V 0H4. Telephone: 416-977-6000, ext. 265. Opening hours are: Wednesdays to Fridays from noon to 7 p.m.; Saturdays from noon to 5 p.m. Free admission.

Onsite Gallery acknowledges that the new gallery construction project is funded in part by the Government of Canada's Canada Cultural Spaces Fund at Canadian Heritage, the City of Toronto through a Section 37 agreement and Aspen Ridge Homes; with gallery furniture by Nienkämper. Onsite Gallery logo by Dean Martin Design.