Welcome to DisOrientation Week 2021!
About this event
The Free-Market Giveaway is a chance to challenge capitalism in all its forms and to reduce waste by reducing the number of new items created as well as reducing items that might head to landfills.
Challenging fast fashion is one way to do this. It is a way to redistribute power and support our community through positive action that could reduce green house gas emissions.
The Free Market believes it provides a valuable service to everyone in Nogojiwanong Peterborough and wants to share and destigmatize second-hand items.
Items include books, toys and clothes among other items in storage. We are also interested in attracting new volunteers during a transition to a new space to encourage creative solutions and the love of DIY and environmental justice work. We look forward to meeting you and discussing the future.
The lovely folks from B!KE Community Bike Shop will be around to help you get your bike ready and in gear for the fall!
**The event itself will be outside and will follow physical distancing and COVID-19 protocols. Please note that we will only be allowed to admit a limited number of people at a time**
About Disorientation Week:
Are you ready to get disoriented? Dis-­Orientation Week (Dis-­O Week) is a week of various events and activities oriented around social justice, environmental justice and anti-oppression put on by Trent groups and members of the community. Dis-­O Week is an integral part of keeping the embers of activist culture burning at Trent. Through this week, a new group of students and community members are invited to participate in and join the future of social justice, environmental justice and anti-oppression at Trent and in the community. Join us this year for 6 days of free workshops, giveaways, speakers, films, tours, socials, learning, fun, agitation, and, of course, disorientation.
We hope that these community-oriented events work towards forming culture-changing relationships with each other to build momentum and sustainability within the activist culture at Trent and in Peterborough/Nogojiwanong.
We acknowledge that this event will be taking place on the traditional territory of the Michi Saagiig Anishnaabe people, at the gathering place known as Nogojiwanong, or the place at the foot of the rapids. The significance of this place is not lost on us, and we hope that this gathering will inspire solidarity, action and change for years to come.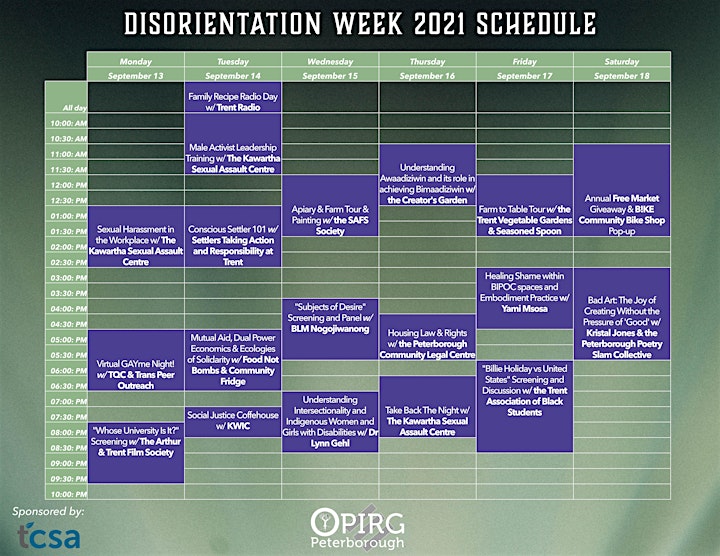 Organizer of Annual Free Market Giveaway & B!KE Community Bike Shop Pop-Up