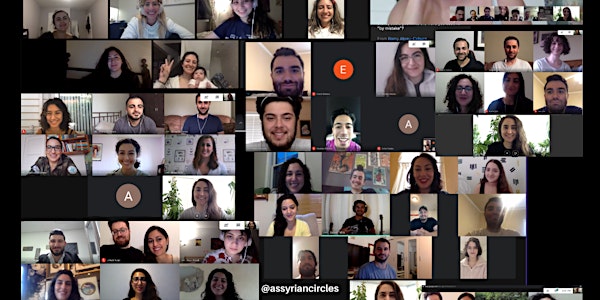 Assyrian Circles Season 12: One Big Circle
a global network of Assyrians speaking together digitally, learning our beautiful dialects and keeping our ancient language alive
About this event
Join our one big circle for Season 12. Date to be confirmed between Feb - March.
This will be a safe space to speak Assyrian at any fluency level, and using any dialect. You are encouraged to come to the circle to participate. It's a great way to make Assyrian friends around the world.
The circle lead will speak Eastern Assyrian (Swadaya // Standard) and translate to English. You are encouraged to do the same, to express yourself in Assyrian as much as possible. Use English when you don't know how to say it in Assyrian and we'll help you translate.
~
For support or help with questions, please direct message Diana Atureta on IG or email at assyriancircles@gmail.com.
THIS IS ASSYRIA AROUND THE WORLD!
Follow Assyrian Circles on Instagram and direct message us to join the community.
Frequently asked questions
What is Assyrian Circles?
About the organizer
Diana Atureta is passionate about keeping the Assyrian language alive by using it with our global community and helping one another learn it, inclusive of all our beautiful dialects. She has a business degree and spends time outside of her career on her passion for art, languages, and connecting people together.