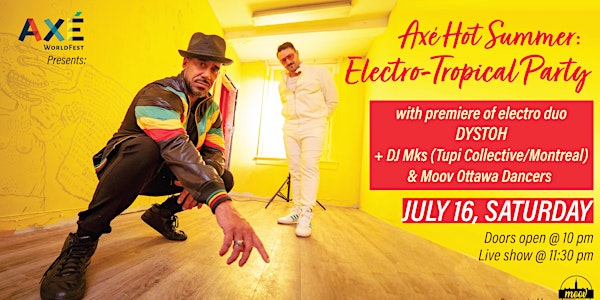 Axe's Hot Summer: DJ MKS (Tupi Collective), DYSTOH and Moov Ottawa Dance
Marrying carefully crafted lyrics with powerful and exciting up-tempo rhythms for a modern, edgy, and refreshing take on music
When and where
Location
Arts Court 2 Daly Avenue Ottawa, ON K1N 6E2 Canada
Refund Policy
Contact the organizer to request a refund.
Eventbrite's fee is nonrefundable.
About this event
SPECIAL ANNOUNCEMENT::
Due to personal issues, PONGO must stay at home and therefore won't be able to perform this week in Canada, cancelling her Canadian Tour in 2022, ...We wish her well.
The party will go on with DJ MKS and we are excited to launch the hot new duo DYSTOH. Get funky and get dancing with Moov Ottawa.
July 16th - Come for a Bluesfest after-party.
Arts Court - behind the Rideau Centre near the Ottawa Art Gallery
Doors: 10 p.m.
Tickets $10
If you already purchased a ticket and will be attending, your existing tickets will be accepted and your first drink is on the house.
Need a refund? Please email us at infoaxeworld@gmail.com
About DYSTOH
In this unlikely mash-up of tight two-part harmonies, baritone sax, samplers, and percussion, two core members of three-time Juno-nominated Souljazz Orchestra, Ray Murray and Philippe Lafreniere (a.k.a. Ray Tabana and Phil Motion), now take to the stage as a duo, marrying carefully crafted lyrics with powerful and exciting up-tempo rhythms for a modern, edgy, and refreshing take on music that isn't quite afro, funk or soul. Thumpy melodic low-end bass and heavy 808 kick drum lay a thick foundation for syncopated guitar notes and analog synth chords that are met with live baritone sax, vocal leads that run in parallel, and a barrage of bells, blocks, congas and shakers. Writing in the shadows of the pandemic, the duo is now putting finishing touches on their first videos and tracks to be released through the summer and fall of 2022.
SHOW BELOW CANCELLED
Axé WorldFest presents
PONGO SAKIDILA tour PARTY
With DJ MKS - Tupi Collective Montreal
opening act: DYSTOH
Doors at 9pm
Live show by PONGO 11pm
✨With support of
The Embassy of France & Alliance Française in Ottawa
👑Pongo👑 >> signed by Universal Music France
🎵BAND🎵
PONGO : Lead vocal - Lisbon, Portugal
Thomas CORDÉ : Keyboard - Paris, France
Axel BOURDON : Electronic drums - Nantes, France
✨CREW✨
- Étienne LANCO : technical manager, audio engineer - Nantes, France
- Valentin POUPART : light engineers - Nantes, France
- Monika Paillard : tour manager - Poitiers, France
About PONGO > Here is an artist often heralded as the new diva of Kuduro. No surprise there, as Pongo always made it her job to constantly freshen up the genre's heritage by livening up her style with sounds from all over the world. Born in Angola in 1992, the passionate dancer grew up to a wealth of music and rhythms. Traditional Angolan songs, Caribbean Zouk, Brazilian beats…all provided the soundtrack to her music-filled youth. She's barely 8 when her and her family flee the civil war raging in the country to travel to Portugal. It was there that she took her love for Kuduro music to whole other level.
Pongo spends her teenage years in the Denon Squad, a local band who originally recruited her as a dancer before letting her pick up the mic to play shows in the neighborhood. It's during those playful times, that she catches the stage bug and realizes she wants to keep sharing emotions with her voice. Making a name for herself on Lisbon's Kuduro scene, she is spotted by Buraka Som Sistema, a band famous for popularizing Kuduro in the early 2000s. Fascinated by the young lady's aura, the band invite her to play a few more shows before releasing « Kalemba (Wegue Wegue) » in 2009, a track fueled by Pongo's childhood memories and which is still the band's biggest success to this day.
Boasting a few millions plays across the world, « Kalemba (Wegue Wegue) » lays the foundation for Pongo musical's signature: music that feels intimate but also shares a universal message while inviting the listener to dance, overcome its struggles and escape the feeling of sadness and despair. The same empowering message is at the heart of « Tambulaya », her first single released in 2018. The video, a tribute to the Black Panthers movement, highlights the track's fiery spirit as well as the singer's urge to transform painful memories into stellar and positive music.
Flashes of her native Angola come back to life on her first EP Baia (2018), supported by the hybrid sounds of Kuduro, melancholic pop, dancehall and EDM with lyrics both in Portuguese and Kimbundu (one of the languages spoken in Angola): Pongo casts her spell carrying the elated listener through the nostalgic sounds of « Kuzola » or the sunny « Chora », while giving birth to a progressive new genre of Kuduro, one that matured into her second EP UWA in 2020.
Following prestigious critical acclaim from the likes of the New York Times, Dazed or the BBC and great performances at festivals such as Dour in Belgium or MaMa in Paris, Pongo returns with « Bruxos » a new track she premiered on June 10th with A COLORS SHOW. Connecting Kuduro to Afrobeats, Favela Funk or even Afrofunk, the song supports her dedication to mixing genres and languages, a way for her to break down all cultural barriers. « Bruxos » spells it all out as the high-octane catchy track sets the tone for Pongo's upcoming project: powerful and addictive party and club music. Bring it on.