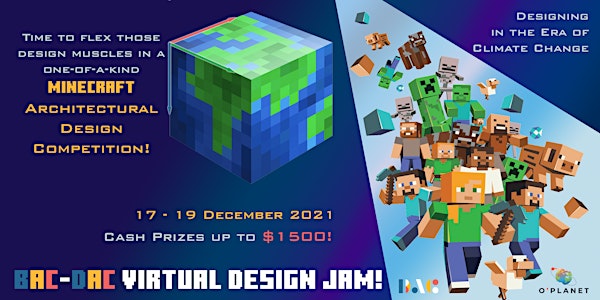 BAC-DAC Virtual Design Jam 2021!
BAC-DAC is hosting a design jam on Minecraft, with cash prizes!
About this event
Time to put those design muscles to work! Whether you're an experienced architect, a student, an intern or just someone with an interest in architecture and design, nothing is like an intense design session to get those creative juices flowing and re-energize and/or invigorate your love for design.
The jam will be hosted on a Minecraft server (Java Edition - on Computer - current version: 17.1) with each team able to select a site from the procedurally generated map (note that teams may want the same site so be flexible!). BAC-DAC is teaming up with O'Planet to bring this Jam to you! The theme of the jam is "Designing in the Era of Climate Change." The intent is to explore this theme and what it means to the future of architecture. At the end of the jam, teams will be asked to stop building and leave their creations open to others to explore. We will share the various designs online and send out a poll to participants to vote on their favorite designs. The top place team will receive a $1500 cash prize, with second and third place teams receiving $1000 and $750, respectively! Of course the real prize is sharing ideas and your enthusiasm for design with others :)
The jam will start at 7pm ET on Friday, Dec 17 and end at 7pm on Sunday, Dec 19, 2021. Here's the run-down of how it will work:
Form a team of 2-4 people (single person teams are also permitted)
Register via Eventbrite. Cost is $50/team for BAC-DAC members and $100/team for non-members (note that when you pay for the $100 ticket that whoever registered will receive a BAC-DAC membership. If you're a member already a discount code will be emailed to you. Note that only members may use this discount code - may not be forwarded to someone else or used twice)! Ensure to include the username/minecraft account name for each team member.
We'll send an email showing you screenshots of the virtual world (randomly selected from the procedurally generated map), along with a few basic instructions on how to use the gaming platform for the newbies! You can pick wherever you want to build but be a bit flexible as other teams may get there first! We will want a fair amount of space between sites
Start brainstorming ideas to prepare for the jam! Think of what you will want to build and how to divide work ahead of time so that you can use your time effectively during the jam!
Make sure you (and all your teammates) purchase and install Minecraft (Java Edition on Computer) if you don't already own it and/or to install all updates!
Jamming!
Friday, Dec 17 - 7pm: Jam officially starts with an opening presentation/discussion on Discord. (Note: you will receive access to the server 1 hour before the beginning of the jam. A link to the Discord channel will be sent to you as well)
Friday, Dec 17 - 7:30pm: Jammers are unleashed to get going on their creations! Remember that you can always build up or remove material to build your design.
Friday, Dec 17 - 11:59pm - Saturday, Dec 18 - 6:00am - Break time! All participants to leave server and get some rest (in your respective time zones)!
Dec 18 - 11:59pm - Sunday, Dec 19 - 6:00am - Break time! All participants to leave server and get some rest!
Sunday, Dec 19 - 4pm: Building time ends! Teams stop building and visit other teams' creations on the server (Discussion will be held on discord where people can talk about their designs and share screens, while people wonder around the server)
Sunday, Dec 19 - 7pm: Jam officially ends (A follow up email will be sent to all participants with a link to a poll to vote on their favorite design)
Rules:
Teams are only allowed to work on their own creations. Do not interfere with other team's builds (even after the jam officially ends); that's just bad form.
When building time ends, stop working on your creation. Even if it's incomplete, it's no big deal. The intent of the jam is to explore ideas, not to put together a design-build proposal.
You can only start working on/building your creation once the jam officially starts. Also remember that you can not bring in models from other Minecraft servers (nor is that possible, we don't think!). That said, you can do as much pre-planning as you want!
You must work in the Minecraft server we set up. And don't even think about going to Sketchup!
No hate speech, abusive or disrespectful behaviour will be tolerated - and no swearing or inappropriate use of words. If you are having any issues with other participants, please email us at safe@bac-dac.ca or send us a message in Discord. A warning will be given for inappropriate behaviour and, if the issue persists or is a serious enough offense, the participant causing the issues will be removed from the server.
Other than that, have fun!
Award Process:
1. First and Second place prizes ($1500 & $1000): We will send out a poll to participants to vote on what they feel is the top design (you cannot vote on your own!)
2. Third place prize ($750): Determined by a Jury of O'Planet and BAC-DAC Directors.
Disclaimer: Number of prizes/amount for a given prize may vary depending on number of teams registered. If event is cancelled for any reason a full refund will be provided
----FR----
BAC-DAC Jam de design virtuelle!
https://bac-dac-virtual-design-jam.eventbrite.ca
Il est temps de mettre à profit vos muscles de conception et de design à l'œuvre! Que vous soyez un architecte expérimenté, un étudiant, un stagiaire ou quoi que ce soit d'autre, rien de tel qu'une session de design intense pour faire jaillir ces jus créatifs et redynamiser et/ou revigorer votre amour pour la conception.
Le jam sera hébergé sur un serveur Minecraft (Édition Java sur ordinateur, version actuelle - 17.1), chaque équipe pouvant sélectionner un site à partir de la carte générée de manière procédurale (notez que les équipes peuvent vouloir le même site alors soyez flexible !) BAC-DAC s'associe à O'Planet pour vous proposer ce design jam-session. Le thème du jam est « Concevoir à l'ère des changements climatiques ». L'intention est d'explorer ce thème et ce qu'il signifie pour l'avenir de l'architecture. À la fin du jam, les équipes seront invitées à arrêter la construction et à laisser leurs créations ouvertes pour permettre l'exploration par les autres équipes. Nous partagerons les différents designs en ligne et un sondage sera envoyé aux participants pour voter sur leurs designs préférés. L'équipe la mieux classée recevra un prix en espèces de 1 500 $, tandis que les équipes en deuxième et troisième place recevront respectivement 1 000 $ et 750 $ ! Bien sûr, le vrai prix est de partager des idées et votre enthousiasme pour le design avec les autres. :)
N'oubliez pas que l'objectif principal n'est pas de rivaliser les uns avec les autres, mais de partager des idées et de créer le meilleur design possible. Avec un échéancier très serré, le jam devrait être un défi suffisant! :)
Le jam commencera à 19h HE le vendredi 17 décembre et se terminera à 19h le dimanche 19 décembre 2021. Voici un aperçu de son fonctionnement :
Formez une équipe de 2 à 5 personnes. Les équipes singulières (1 personne) sont également autorisées si vous le souhaitez !
Inscrivez-vous via la plateforme Eventbrite. Le coût est de 50 $/équipe pour les membres du BAC-DAC et de 100 $/équipe pour les non-membres. Notez que lorsque vous payez le billet de 100 $, celui qui s'est inscrit recevra une adhésion à BAC-DAC. Si vous êtes déjà membre, un code de réduction vous sera envoyé par e-mail. Notez que seuls les membres peuvent utiliser ce code de réduction, il ne peut pas être transmis à quelqu'un d'autre ou être utilisé deux fois) ! Assurez-vous d'inclure le nom d'utilisateur/nom de compte Minecraft pour chaque membre de l'équipe.
Un courriel sera transmis avec des captures d'écran du monde virtuel (sélectionnées au hasard à partir de la carte générée de manière procédurale), ainsi que quelques instructions de base sur la façon d'utiliser la plate-forme de jeu pour les débutants ! Vous pouvez choisir où vous voulez construire, mais soyez un peu flexible car d'autres équipes peuvent y arriver en premier ! Nous souhaitons avoir un bon espacement entre les sites.
Commencez à réfléchir à des idées pour vous préparer au jam ! Pensez à ce que vous voudrez construire et à la façon de répartir le travail à l'avance afin que vous puissiez utiliser votre temps efficacement pendant le jam !
Assurez-vous que vous (et tous vos coéquipiers) achetez et installez Minecraft (Édition Java sur ordinateur, version actuelle - 17.1) si vous ne le possédez pas déjà et/ou installez toutes les mises à jour !
Jammons!
Vendredi 17 décembre - 19h : le Jam commence officiellement par une présentation/discussion d'ouverture sur Discord (A noter : vous aurez accès au serveur 1h avant le début du jam. Un lien vers la chaine Discord vous sera également envoyé)
Vendredi 17 décembre - 19h30 : les Jammers sont relâchés dans le monde de Minecraft pour se lancer dans leurs créations ! N'oubliez pas que vous pouvez toujours bâtir en hauteur ou creuser de la matière pour construire votre conception.
À 23h59 le vendredi 17 déc. jusqu'à 6h00 le samedi 18 déc. - Tout les participants doivent sortir du serveur! C'est le temp de prendre une pause et de se reposer un peu. À demain!
À 23h59 le samedi 18 déc. jusqu'à 6h00 le dimanche 19 déc. - Tout les participants doivent sortir du serveur! C'est le temp de prendre une pause et de se reposer un peu. À demain!
Dimanche 19 décembre - 16h : Fin du temps de construction ! Les équipes arrêtent de construire et visitent les créations des autres équipes sur le serveur. (Une discussion aura lieu sur Discord où les gens pourront parler de leurs conceptions et partager des écrans, tandis que les gens se promèneront autour du serveur)
Dimanche 19 décembre - 19h : Jam se termine officiellement (Un courriel de suivi sera envoyé à tous les participants avec un lien vers un sondage pour voter sur leur design préféré)
Règlements :
Les équipes ne sont autorisées à travailler que sur leurs propres créations. N'interférez pas avec les créations des autres équipes (même après la fin officielle du jam) ; c'est juste une mauvaise forme.
Une fois le temps de construction terminé, arrêtez de travailler sur votre création. Même si c'est incomplet, ce n'est pas grave. Le but est d'explorer des idées, pas de mettre sur pied une proposition de conception-construction réaliste.
Vous ne pouvez commencer à travailler/construire votre création qu'une fois le jam officiellement commencé. N'oubliez pas non plus que vous ne pouvez pas importer de modèles d'autres serveurs Minecraft (ce n'est pas possible). Cela dit, vous pouvez faire autant de préplanification que vous le souhaitez !
Vous devez travailler sur le serveur Minecraft que nous avons configuré. Et ne pensez même pas à aller sur Sketchup !
Aucun discours haineux, comportement abusif ou irrespectueux ne sera toléré - ainsi qu'aucun juron ou utilisation inappropriée de mots. Si vous rencontrez des problèmes avec d'autres participants, veuillez nous envoyer un courriel à safe@bac-dac.ca ou envoyez-nous un message dans Discord. Un avertissement sera donné en cas de comportement inapproprié et, si le problème persiste ou s'il s'agit d'une infraction suffisamment grave, le participant à l'origine des problèmes sera supprimé du serveur.
À part ça, amusez-vous bien !
Processus d'attribution des prix :
1. Prix des première et deuxième places (1 500 $ et 1 000 $) : nous enverrons un sondage aux participants pour qu'ils votent sur ce qu'ils pensent être le meilleur design (vous ne pouvez pas voter pour votre propre conception !)
2. Troisième prix (750$) : déterminé par un jury des directeurs d'O'Planet et du BAC-DAC.
Avis de non-responsabilité : le nombre de prix/montant pour un prix en particulier peut varier en fonction du nombre d'équipes inscrites.