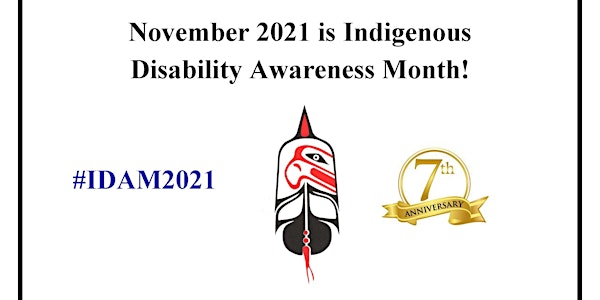 BCANDS Indigenous Disability Awareness Month 2021 Webinar Series
Four webinars exploring the challenges and contributions faced by Indigenous peoples living with disability.
About this event
Indigenous peoples of Canada experience a disability rate significantly higher than that of the general population. Indigenous Disability Awareness Month (IDAM) brings awareness of these barriers and the issues that Indigenous peoples living with disabilities and their families face every day. More importantly though, in spite of these barriers, IDAM celebrates the achievements of Indigenous peoples living with disabilities and recognize the significant and valuable contributions they make to our communities socially, economically, and culturally every day.
Indigenous Disability Awareness Month (IDAM) was created by BCANDS in 2015, and 2021 is it's 7th anniversary! Since then, IDAM is now annually declared and recognized by the Provinces of British Columbia, Saskatchewan, and Manitoba, the Assembly of First Nations, BC First Nations Summit, Métis Nation of BC, Council of Yukon First Nations, the Town of Inuvik, and hundreds of other organizations and communities across Canada. IDAM is the only Indigenous disability specific awareness initiative of its kind in the world. In 2017 the United Nations International Committee on the Rights of Persons with Disabilities recommended to Canada to officially declare November as IDAM annually.
Webinars description
November 16th, 2021 at 2:00pm (PST) - Jordan's Principle Program
November 19th, 2021 at 1:30pm (PST) - Disability Case Management: Resources and Services
November 24th, 2021 at 11:00am (PST) - Accessibility Standards: A Path Forward to Inclusion
November 25th, 2021 at 11:00am (PST) - Financial Resources: from Registered Disability Saving Plan (RDSP) to Disability Tax Credit (DTC)