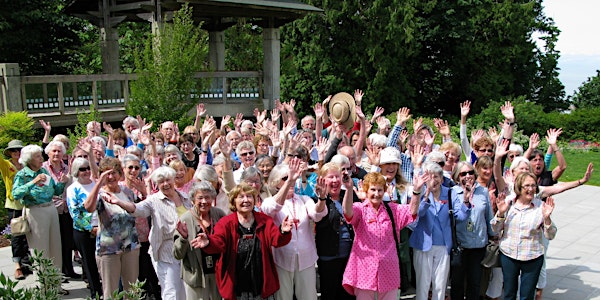 Be a FOG for a day with the Friends of UBC Botanical Garden (FOGs)
Event Information
Location
UBC Botanical Garden - Reception Centre
6804 SW Marine Drive
Vancouver, V6T 1Z4
Canada
Be a FOG for a day with the Friends of the Garden (FOGs) at UBC Botanical Garden
About this event
You are invited to meet a unique group of volunteers in the beautiful UBC Botanical Garden. Their activities range from organizing events to propagating plants, study groups and much more.
The Friends of UBC Botanical Gardens (FOGs) invite you for coffee, a look at what is in bloom in the Gardens, a speaker presentation, a private tour of the gardens and a visit to the places where FOGs work to support this special Garden.
More information about FOGs: https://botanicalgarden.ubc.ca/fogs/
Contact: steffany1walker@hotmail.com
Wednesday, March 11, 2020
Rain Garden for Climate Resilience with Deborah Jones
As volunteer Rain Gardens Coordinator for Cougar Creek Streamkeepers since 2006, Deborah Jones has been closely involved in the design, construction, planting and maintenance of 29 rain gardens at North Delta schools and other community locations. She also advises The Nature Trust of British Columbia on their rain garden grant program. She has a BA in Urban Studies, a Masters of Library Science, and worked at Vancouver Public Library for over 30 years.
Wednesday, March 18, 2020
Cypress Provincial Park with Lyn Grants
Fellow FOG Lyn Grants will present a photo essay of some of the outstanding natural features of Cypress Provincial Park and will take us through a quick review of the park's history. She will talk as well about stewardship and the importance of protecting those natural features which are important for an ever growing urban population looking for all season recreational opportunities in our great outdoors.
Wednesday, March 25, 2020
Great Plant Picks 2020 with Gwen Odermatt
Gwen Odermatt owns the farm nursery Petals and Butterflies in Langley. She has excellent knowledge about how to create a garden that attracts butterflies and other beneficials.
Great Plant Picks is an educational awards program committed to building a comprehensive palette of outstanding plants for Pacific Northwest gardens. Awards are based on the combined expertise of over 40 horticulturalists from Washington, Oregon and British Columbia.
Wednesday, April 8 2020
Plants of Western Australia with Susan Murray
Susan Murray is an author and curator of Darts Hill Garden Park. Ms. Murray taught horticulture and arboriculture from 1979 to 2013 at BCIT and KPU. Passionate about plants and photography, Susan has collected thousands of images of plants from around the world. Recently she visited the native landscapes of southwestern Australia to photograph wildflowers.
Wednesday, April 29, 2020
Environmental Justice and Nature based solutions in Cities with Lorien Nesbitt
Lorien Nesbitt is an assistant Urban Forestry professor at the University of British Columbia. The focus of her talk is on access to urban vegetation and the value of urban forests on human health, wellbeing, climate change and equity.
Wednesday, May 6, 2020
Roses with Jason Croutch
For the past few years, horticulturist Jason Croutch and his wife have been growing roses and other plants with their sustainable, small-scale farming operation on a 3-acre farm on Nicomen Island. Their plants are grown either by seed or cuttings from the mother plant.
Location
UBC Botanical Garden - Reception Centre
6804 SW Marine Drive
Vancouver, V6T 1Z4
Canada