Nurhan Arman conducts Sinfonia Toronto in masterpieces by two great composers - a gorgeous program of lush melodies and brilliant classics
About this event
Premiered on June 25 - accessible until July 24
Nurhan Arman conducts Sinfonia Toronto in masterpieces by two great composers - a gorgeous program, featuring Beethoven's remarkable Quartet op. 18, No. 6 and concluding with the beloved melodies of Dvorak's Quintet both in lush orchestral arrangements
SINFONIA TORONTO
NURHAN ARMAN Conductor
BEETHOVEN Sinfonia opus 18, no. 6a
DVORAK Chamber Symphony - Quintet Opus 77a
About the program
Sinfonia Op. 18, No.6a by Ludwig van Beethoven (1770-1827)
String orchestra version by Nurhan Arman
In 1798 Beethoven was commissioned by Prince Franz Maximilian Lobkowitz to write six string quartets. String quartets were popular for concerts at court and at the house parties of prosperous merchants, especially the many quartets by Haydn and Mozart. The music-loving prince Lobkowitz certainly appreciated them. For Beethoven, this form appreciated by connoisseurs and the nobility offered entry into the higher echelons of society, for both prestige and profitable patronage. At 28, Beethoven was already known in Vienna as a rising composer worthy of attention; this commission was a welcome next step.
The string quartet was a new form for Beethoven. For two years he focused intently on the challenges and possibilities for texture and interplay among two violins, a viola and a cello. His contemporary notebooks show purposeful practice with quartet writing, severe self-criticism and great determination. Beethoven knew his quartets would be compared with those of Mozart and Haydn and judged in the light of many great masterpieces.
The outcome of the commission was the six quartets grouped as Opus 18. Michael Reynolds of the Muir Quartet has commented that they "are technically simple, but the problem is that if you play a wrong note it sounds awful. (The quartets) are very exposed, and it has to be perfect, and it has to be free. It is like playing Mozart: it is either really good or it is garbage."
Beethoven was already expanding his musical vocabulary in these quartets, even while he worked within the form so beautifully elaborated by his two illustrious predecessors. He was already capable of adding the humour, profound emotions, powerful dynamic and harmonic shifts, sudden accents and dramatic silences for which his symphonies are known. His use of counterpoint added gravitas to some movements, building on more scholarly forms with true fugues, canons and inversions instead of the lighter imitative passages in Haydn. Beethoven was consciously claiming his own style, writing "I have taken from my elders and respect what they have done, but am ready to express myself."
By the time he was halfway through the set Beethoven was becoming more confident in his skill with quartets and bolder with innovations. By the sixth quartet, we can discern the hand of a mature composer able to control adventurous advances within a classic form.
The first movement of No. 6 opens as expected, with classical sonata-allegro architecture. There are two clear, contrasting themes: the first is a bright allegro con brio and the second is less cheerful though still in F major. But Beethoven adds an unexpected twist after stating the second theme, suddenly diving into the darkness of F minor before quickly jumping back into major. The development focuses on a fragment of the first theme, travelling through several keys to a surprise stop before the entire first theme flows into the recapitulation.
The second movement opens with a relaxed pace and neatly traditional four bar phrases, but throughout the movement Beethoven's counterpoint and urgent accentuations deepen typical second movement content.
The Scherzo is a fascinating example of rhythmic ambiguity, using hemiola, a compositional technique which combines seemingly conflicting rhythmic metres. Here six notes are divided into competing sets of two and three beats, setting up a charming ear-puzzle. This was definitely not standard classical practice, and "must have struck many a player and listener in 1801 as rude indeed," as musicologist Michael Steinberg has noted.
The last movement is titled "La Malancolia." It is the most profound and radical part of the quartet and the crowning reason this quartet is so appropriate for fuller-sonority performance by string orchestra. A long introduction establishes a melancholy atmosphere, but after a hesitant pause on the dominant harmony Beethoven dives into a jovial country dance. The rest of the movement vaults back and forth between these extremes, resigned melancholy and vigorous jollity, and is interrupted occasionally by sudden silences. Finally Beethoven gathers life's contrasts into a single whirlwind with a headlong prestissimo conclusion.
The popularity of the entire Opus 18 prompted the Bonn publishing house Simrock to publish them in new arrangements In 1806, whereupon the Leipziger Zeitung commented, "It must be remarked that these sonatas are really the much talked-of quartets of which one scarcely tires, in spite of their harsh and rugged style."
Chamber Symphony Op. 77a (String Quintet in G Major, Op. 77) by Antonín Dvorák
Dvorák wrote his second string quintet in 1875, just as he was beginning to attract international notice. In fact, he wrote it for a competition sponsored by a Prague association called the Artistic Circle. It won, drawing praise for its "distinction of theme, technical skill in polyphonic composition, and mastery of form." The jury also remarked on Dvorák's "knowledge of instruments," recognizing the young composer's unconventional, highly effective scoring: instead of adding a second violin or viola to the standard string quartet, Dvorák included a doublebass, which gives the work its special depth and rich sonority.
The opus number 77 is misleading, as the quintet dates from the same year as Op. 21, the Piano Trio No. 1 in B-flat and Op. 23, the Piano Quartet No. 1 in D. This is because the Quintet was not published until 1888, at which time Simrock gave it the opus number 77, the publisher's weighty authority overbearing Dvorák's protests that for correct creative chronology it should be his opus 18.
The first movement is in typical sonata form, but with two innovations: the first theme is extremely brief, merely a repeated one-bar motif; and the second subject is in an unexpected key, F major, a very unusual choice for a work based in G major. Both themes feature triplet rhythms, giving the movement delightful energy. Following a dramatic development section, they return with some modest elaborations and are then capped off with a lively coda.
The Scherzo is in E minor, yet buoyant and joyful, full of syncopations and rustic rhythms that come close to Dvorák's famed folk dance movements. A flowing Trio section provides contrasts in key, texture and mood before the Scherzo theme is reprised.
The noble Poco andante anticipates the great slow movements found in Dvorák's later works, with an arch form that spans three variants of a distinctive rhythm introduced in the second bar and then reminisces back through them in reverse order before ending with a varied restatement of the opening.
The rondo-form Finale returns to the high spirits of the first movement, with still more delightful melodies, fuller textures and a more prominent part for the doublebass. All these elements enrich and underline listeners' sense of achievement, as the movement brings the entire work full circle: its first five notes are identical to those at the beginning of the second movement; many other motifs are either exact quotes or glancing allusions to themes from the other movements; and its final, rousing bars echo the conclusion of the first movement, ending the work as vigorously and beautifully as it began.
Biographies
Sinfonia Toronto now in its 22nd season, has toured twice in Europe, in the US, South America and China, receiving glowing reviews. It has released four CD's, including a JUNO Award winner, and performs in many Ontario cities. Its extensive repertoire includes all the major string orchestra works of the 18th through 21st centuries, and it has premiered many new works. Under the baton of Nurhan Arman the orchestra's performances present outstanding international guest artists and prominent Canadian musicians.
Maestro Nurhan Arman has conducted throughout Europe, Asia, South America, Canada and the US, returning regularly to many orchestras in Europe. Among the orchestras Maestro Arman has conducted are the Moscow Philharmonic, Deutsches Kammerorchester Frankfurt, Filarmonica Italiana, St. Petersburg State Hermitage Orchestra, Orchestre Regional d'Ile de France, Hungarian Symphony, Arpeggione Kammerorchester, Milano Classica and Belgrade Philharmonic.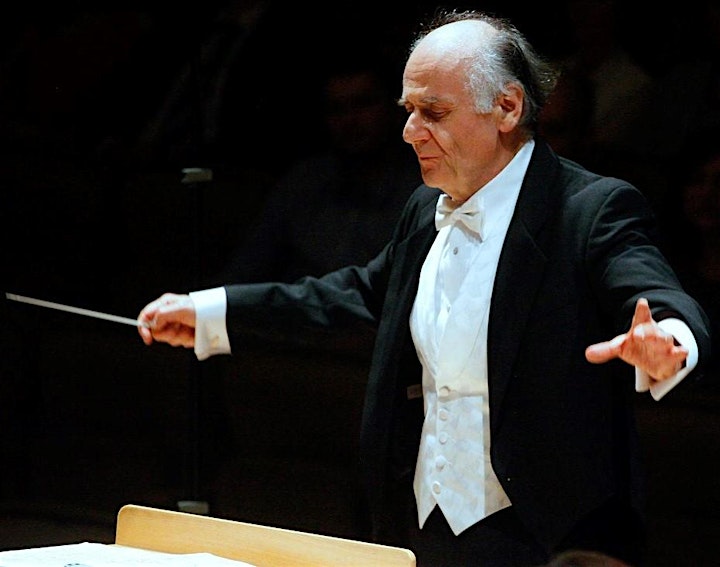 Organizer of BEETHOVEN & DVORAK - Virtual Concert