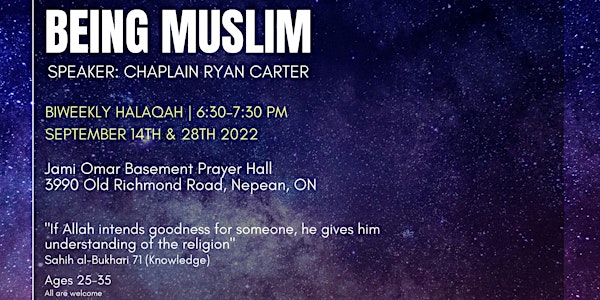 Location
Jami Omar Mosque
3990 Old Richmond Road
Ottawa, ON K2H 8R5
Canada
"Being Muslim" - A Lecture Series presented by Chaplain Ryan Carter.
About this event
As-salamu alaykum!
We would like you to invite to our new, bi-weekly Halaqa Series, "Being Muslim" presented by Chaplain Ryan Carter to be held at Jami Omar Mosque in Ottawa. Dates of the halaqas are located on the poster for confirmation :)
This Halaqa is going to be held every other Wednesday from 6.30pm-7.30pm at the Basement prayer hall inside Jami Omar Masjid in Ottawa.
The first two sessions are on the following dates.
September 14th, 2022
September 28th, 2022
Ages 25-35, but everyone is welcome! Refreshments will be provided, Insha Allah. We look forward to seeing you :)
About the Speaker:
Chaplain Ryan Carter is a chaplain for the Canadian Armed Forces. His broad international experience has placed him in leadership positions in Muslim communities around the world. Of Afro-Caribbean descent, after embracing the Muslim faith in 2001, he began his traditional Islamic education in 2003 in Canada and Cairo where his focus was Arabic and Islamic Law. Seeing the need for further engagement in the area of social justice and reconciliation after societal conflict, he returned in 2007 to complete his degree in Criminology and Social policy at Ontario Tech University. He continued his education abroad, earning a MA in Middle Eastern studies from Durham University, UK a MA in Muslim-Christian Relations from Hartford Seminary, USA and is currently a doctoral candidate in Islamic History at Queens University,