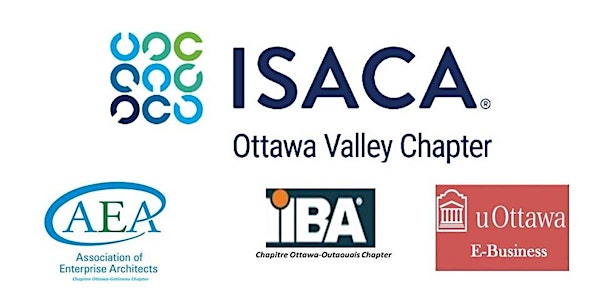 Beyond Project Management: Harvesting Value from Your IT Investments
Beyond Project Management: Harvesting Value from Your IT Investments
About this event
Why do some investments succeed (CERB) and others fail (Phoenix) despite the application of good project management? What can leaders do to ensure that organizational investments actually produce real value?
Research completed by Dr. Gerald Grant (Sprott School of Business) and Robert Collins (experienced high-tech executive) over the last 10 years focused on these questions. The key is to have an absolute focus on the value to be produced rather than focus on the technology that enables it. The details of this work can be found in their book "The Value Imperative: Harvesting Value form your IT Initiatives".
This session provides an overview of their findings including:
• The Value Cycle - mapping and understanding what value is created by whom for whom;
• The Value Realization Cycle - understanding how value is created by investments from strategy to delivery; and
• The Agricultural Model - a better alternative to organization investments than the rigid engineering model which has failed us so often in the past.
Note: The presentation will be captured and made available to participants only.
Guest Speakers:
Dr. Gerald Grant
Dr. Gerald Grant is Director of the Centre for Information Technology, Organizations, and People (CITOP) and Associate Professor at the Sprott School of Business, Carleton University in Ottawa, Canada. He obtained his PhD in Information Systems from the London School of Economics and Political Science, London, United Kingdom. Dr Grant's work focuses on the strategic management of information systems in organizations, particularly on issues around governance of IT in organizational and inter-organizational settings. He has consulted internationally for organizations such as the Commonwealth Secretariat in the U.K., the COMNET-IT Foundation in Malta and the Government of Jamaica. He is a seasoned presenter, have developed and presented workshops and seminars to audiences across the world, including Canada, USA, UK, South Africa, Brazil, Malaysia, Malta, Jamaica, Colombia, Zimbabwe, among others. His community involvement includes serving as a member of two Mayor's Task Forces for the City of Ottawa (Canada): the e-Government and IT Taskforce and the Governance Taskforce set up by the Mayor of Ottawa in 2008 and 2009 respectively. He served as one of the judges of the City of Ottawa's 2011 Open Data contest. Dr Grant is also a member of the Advisory Board of DPI-The Association of Public Sector Information Professionals.
Rob Collins
Rob Collins is a technology executive with more than 35 years experience. He was the Chair of the Mayor's Task Force on eGovernment for the City of Ottawa. In 2013, Rob was Transitional CIO for the City of Ottawa where he was brought in to change that organization's approach to IT. To do this, he implemented a new planning model, new governance process and reorganized the IT department. Rob spent twenty years with Cognos, Inc., including roles as product line Vice-President and Chief Information Officer.