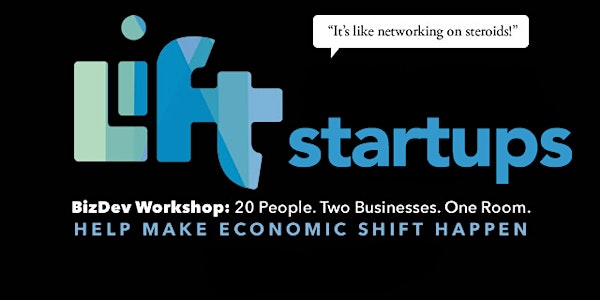 BizOnDeck Focus Group workshop with Sharon Marshall / eVirtual Admin & VANT...
Location
The Prime Chophouse
1089 Braidwood Rd
Courtenay, BC V9N 3S1
Canada
Refund policy
Refunds up to 7 days before event
Description
On deck:
Sharon Marshall pitching Virtual eAdmin / Cree8iv Collaboration

VANTEC E-Fund workshop (angel investors who are looking for local entrepreneurs worthy of investment)
See below for descriptions, "asks," and "givebacks."
FORMAT
6:30pm "Soft start" for informal networking. Bring business cards, brochures, etc. Coming for dinner? Please order at 6pm. Thanks.
6:50pm Everyone in their seats for "hard start" at 7pm: We will workshop the first business "on deck" for 45 minutes. They give a 3 minute summary of their business, including opportunities, challenges, what they can give to the round table, what they need help with. We respond with 42 minutes of questions, feedback, and help. We also have a template that asks about customer/client acquisition, activation, retention, referral, and revenue (Pirate Metrics, see below). The second business "on deck" is updating us on an earlier pitch and ask.
REGISTRATION
Our seating is limited. The ticket fee is a placeholder fee to secure intention and cover basic costs. LIFT Champions / Regular members, Partners, and Sponsors are not charged - if you show up (you will be invoiced if you don't show up). LIFT Associates / Friends / Ambassadors get $20 back when you show up. If you don't show up, your funds are donated to the Young Entrepreneur FUND (YEF) at LIFT. No exceptions.
USING THE LIFT VIP BUDDY PASS
If you know someone who needs to be here, please talk to me. If you're a LIFT VIP, please use your access to the "free for first timers" Buddy Pass and make them your guest. To be part of the LIFT team, call me at 250-792-1408.
PIRATE METRICS
We will draw on Boris Mann's workshop using the Pirate Metrics model. For more on AARRR metrics, see http://j.mp/2DvbvrV
WHO'S ON DECK?
★ Sharon Marshall with Virtual eAdmin / Cree8iv Collaboration


DESCRIPTION
Virtual eAdmin is a sole proprietorship working under the Cree8iv Collaboration Inc umbrella. Virtual eAdmin provides administrative, creative, and technical support to entrepreneurs and executives globally. There are three aspects to Virtual eAdmin: 1. We provide virtual support to entrepreneurs, executives and organizations globally; 2. We are a training ground for young Indigenous women entrepreneurs who wish to start their own businesses as virtual assistants or independent contractors; 3. We are creating our own team of VAs in the process. This idea of Indigenous virtual assistants was borne out of the need to assist remote communities to alleviate their high unemployment issues (some with 49% +). Most young people who live in these remote communities have lost hope. These communities suffer from health issues, alcoholism and drug addictions and many of these communities have high suicide rates. Virtual eAdmin wishes to help bring hope to these women and communities by providing opportunities to build economies.

ASK
I'm looking for clients and participants and funding so that I can pay the women while training them and give them each a new laptop and software so they have the proper tools to work with.

★ VANTEC E-Fund workshop (more info coming soon!)
Twitter: @VANTEC_Networks and @E_Fund
LinkedIn: https://www.linkedin.com/in/vantec-networks-97255339/ and https://www.linkedin.com/in/e-fund-82240039/
IT TAKES A COMMUNITY TO GROW SUCCESSFUL STARTUPS

This series of round table business development workshops is hosted by me (hpm), and the LIFT Solution Sponsors as part of this business and community economic development initiative.
Want to support this LIFT work? Let's talk. I'm looking for "solution sponsors" and "community partners" who want to help grow our Vancouver Island entrepreneur community.
Want to support your own business growth? For award-winning promotional and business development support apply at http://bit.ly/1000WeAreVanIsl
Thanks to Solution Sponsors
Thanks also to 2017-2018 Community Partners