Sales Have Ended
Registrations are closed
Please click the below link to complete the Registration Information Form. https://forms.gle/KrBuFSsKFLAEowdY7 Zoom-Room link for the Panel Discussion will be share with those who have completed this Registration Information Form on June 30th.
Sales Have Ended
Registrations are closed
Please click the below link to complete the Registration Information Form. https://forms.gle/KrBuFSsKFLAEowdY7 Zoom-Room link for the Panel Discussion will be share with those who have completed this Registration Information Form on June 30th.
TRUE ROOTS Counselling Services proudly facilitates discussions to shatter Shame & Silence of the BLACK Community's mental health experience
About this event
WE NEED TO TALK
A CLOSED-DOOR DISCUSSION ABOUT INTERNALIZED RACISM
EXCLUSIVELY For Black People, By Black People, About Black People.
TWO-TIERED REGISTRATION & CAMERA-ON REQUIREMENT FOR ATTENDANCE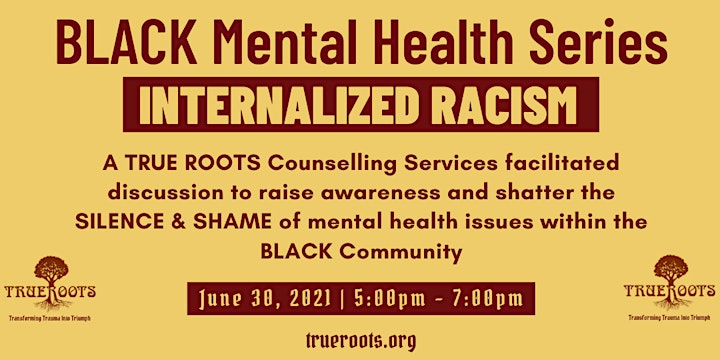 Wednesday June 30th, 2021 | 5:00pm - 7:00pm
TRUE ROOTS Counselling Services is very proud to facilitate this Special Edition CLOSED-DOOR EVENT for the Melanated & Racialized Community.
Before we break for summer, this episode of the Black Mental Health Series will have an in-depth, closed-door discussion about INTERNALIZED RACISM.
What is Colourism/Shadeism and light Skin Bias and how does it impact the Black Community? Does the House Negro paradigm play out within the Black Community today and what does this look like? How do Interracial Relationships impact the Black Community's understanding of Blackness, Allyship and the concept of Solidarity?
This In-House Conversation is EXCLUSIVELY for Black People, By Black People About Black People that requires a level of transparency, openness and honesty that is not open for all ears. Because of this, there is a two-tiered Registration System with Camera On requirement for attendance.
On Wednesday, June 30th, 2021, Kimberly Cato, Founder & CEO of TRUE ROOTS Counselling Services for more than 25 years, will facilitate a Collaborative Discussion with Black Men & Women of Substance & Integrity.
This is the Fifth in a series of discussions on Black Mental Health that are intentionally designed to shatter the silence of mental health related issues within the Black community in an effort to bring true healing to the traumatic impact of Anti-Black Racism on Mental Health.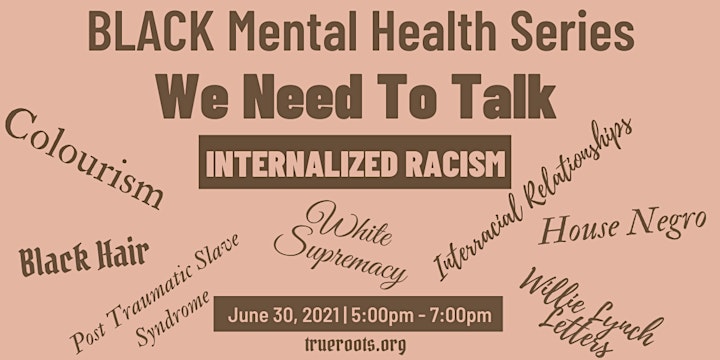 IT IS TIME FOR CHANGE
Please feel free to share this invitation with others within your sphere of influence.
The TRUE ROOTS - Zoom Room event link will be shared upon the completion of the additional registration form.
PANELISTS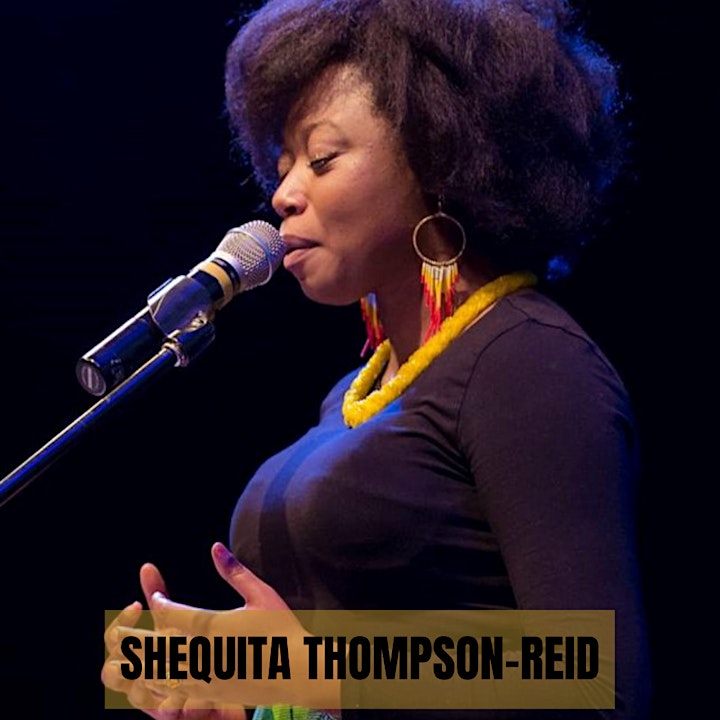 SHEQUITA THOMPSON-REID has been working at the intersections of community development and equity for over 15 years. Currently, she brings with her expertise within the fields of Program Development, Youth Engagement, Capacity Building, Housing, Violence Prevention, Conflict Mediation and Equity. She is well versed in working from practices rooted in decolonization and Anti Oppression frameworks.
In her past-time Shequita Co-founded a grassroots program, Words of Wisdom. This program used books as a catalyst towards having deeper conversations into intergenerational trauma, identity, equity and healthy relationships. In 2015, she traveled to Ghana to participate in a knowledge exchange with young women and girls globally, and developed collaborative strategies to end gender-based violence.
She holds an Honors BA from the University of Toronto with a specialization in Sociology and Gender Studies.
"I am, because we are" – Ubuntu, African Proverb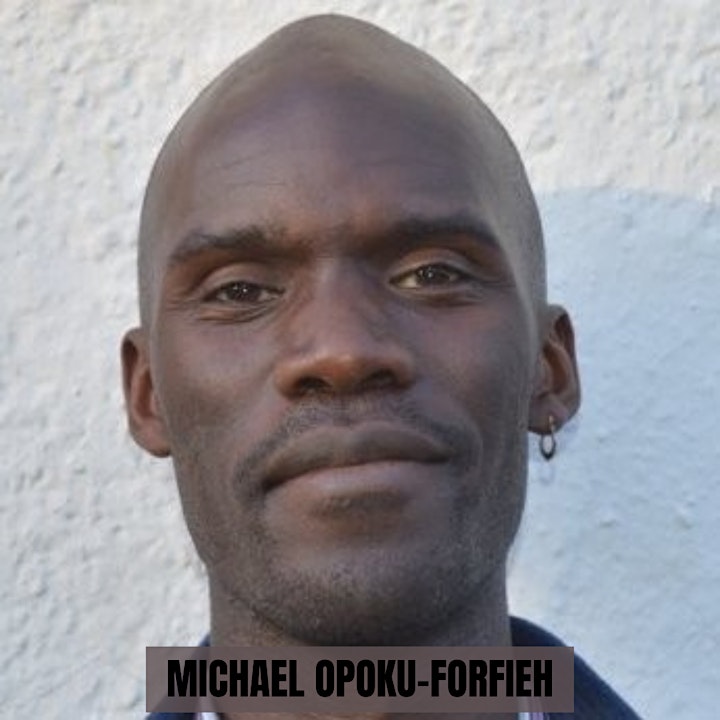 MICHAEL OPOKU-FORFIEH is a counsellor, coach, consultant, and writer who has worked in mental health since 1998. With a MSc in Therapeutic Counselling, he has supported men, women and transgender people in a variety of settings and sees counselling as co-creative, expressive, moving art.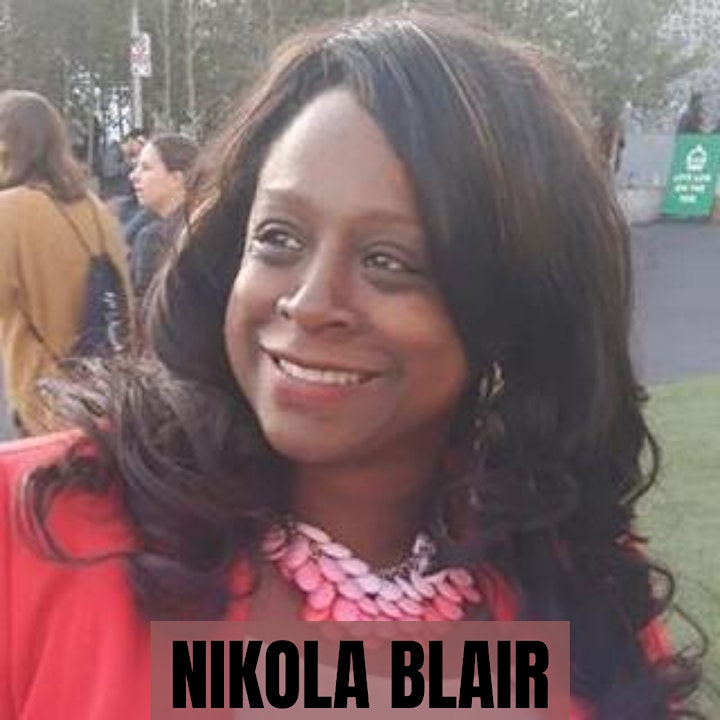 NIKOLA BLAIR is a Qualified Drama Therapist and Picture Exchange Communication Facilitator (PECS) practicing over 22 years - Nikola facilitates Individual and Group Intercultural Therapy. Nikola is the founder of Act On It Therapies that specializes in psychotherapeutic Drama therapy. She is also an advocate for Intercultural Therapy in her practice. She is a public speaker and Public Service Change Management Consultant who is actively worked with Halton Region Catholic Education board for over 6 years and formed the first Diversity Equity Inclusion and Anti Black Racism Committee in the Halton Region that is now been developed as IDARE (Inclusion Diversity Anti Racism and Equity} currently rolling out across the Halton Region Schools and beyond.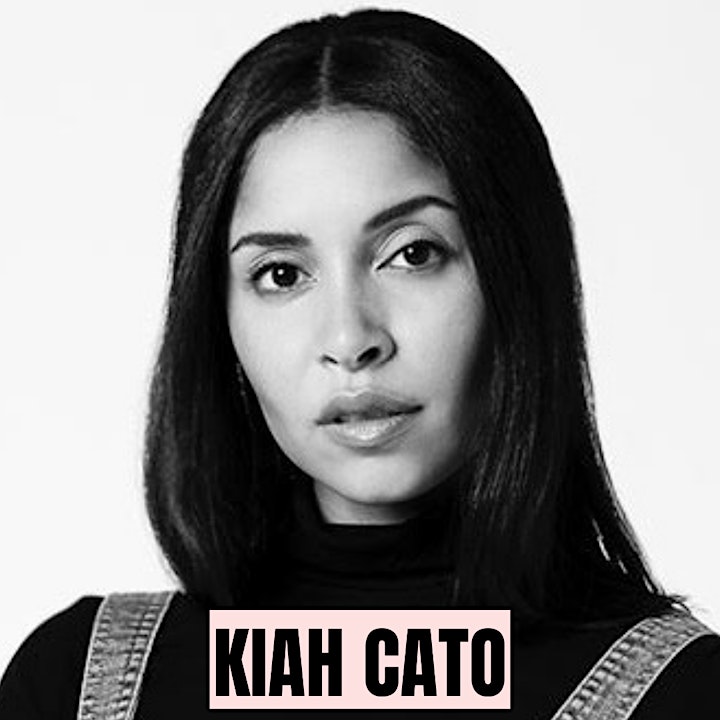 KIAH CATO is a self-proclaimed "Renaissance woman" with experience in media, government, and health and wellness. Primarily, she works as a Trade Commissioner with the federal government at Global Affairs Canada. Kiah also recently completed studies for her Juris Doctorate at the University of Ottawa's English Common Law program. Her passion is creating spaces for individuals to share their ideas candidly and authentically. She carries out this mission as host of her own podcast, Not All Millennials - as in, not all millennials are lazy or entitled, or whatever people say about us. We're just doing things differently, and in the modern world it's necessary to think beyond the status quo. You can stream episodes of Not All Millennials wherever you listen to your podcasts.
NICKI REID is a certified health, life, transformational, and master coach. She helps women survivors of suicide find solace by creating safe spaces for them to be seen, be heard, and feel like they belong so that they can be confident in themselves; mind, body, and soul. Through Yoga, Aroma Therapy, Mindfulness and various alternative Medicine Practices, Coach Nicki has developed a holistic approach to managing mental health within the Black Community.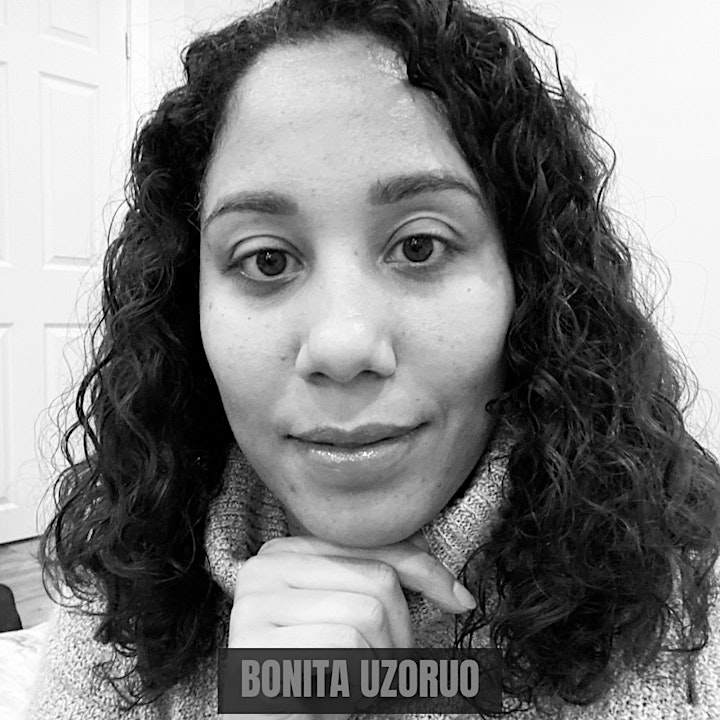 BONITA UZORUO is an Anishinaabe, Cree, and Black educator. She has been a teacher in Toronto for the past 13 years, specializing in Indigenous and Black education. 
Bonita's passion for anti-racism education and inclusive community building led her to Found the Halton Hills Alliance for Social Change. The HHASC is a BIPoC led grassroots organization that serves the Halton Hills region with anti-racism education and provides pathways for inclusive community building.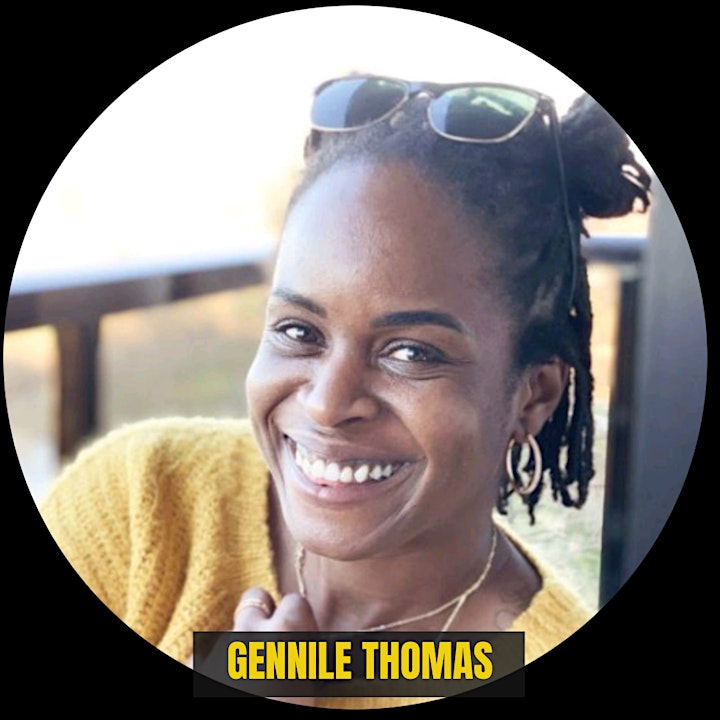 GENNILE THOMAS is a Black Canadian womxn, activist, athlete, and mother, with a background in community organizing, labour studies and creative and visual merchandising. Raised in the Halton region, Gennile recognized a need for wellness and educational programs to develop essential resources for marginalized groups in her community. Fueled by her passion for equity and social justice, Gennile founded Halton Black Voices in 2020 in an effort to develop policies and programs to address these significant needs in Halton. In her work, she aims to work inclusively with Halton residents, business groups and stakeholders to develop anti-racist programs for corporate and community groups.
Gennile looks forward to deepening her connections with members of the Indigenous and 2SLGBTQQIA communities in all her work. She welcomes Halton residents to join the Halton Black Voices grassroots collective to engage and participate in the HBV Anti-racist Book Club, Healing Circles, and Equity Learning Spaces.
Previous Episodes of the Black Mental Heal Series
SHATTERING SHAME - March 24, 2021
HONOURING GEORGE FLOYD -May 24, 2021
Organizer of BLACK Mental Health Series - INTERNALIZED RACISM