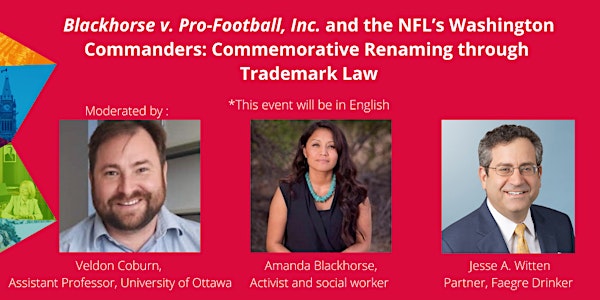 Blackhorse v. Pro-Football, Inc: Commemorative Renaming and Trademark Law
Blackhorse v. Pro-Football, Inc. and the NFL's Washington Commanders: Commemorative Renaming through Trademark Law
About this event
English Follows
Blackhorse v. Pro-Football, Inc. et les Washington Commanders de la NFL : Changement de nom commémoratif par le biais du droit relatif aux marques de commerce
Joignez-vous à nous virtuellement le 10 novembre, de 11h30 à 13h, pour une discussion modérée par le professeur Veldon Coburn avec Amanda Blackhorse et Me Jesse A. Witten au sujet du litige Blackhorse c. Pro-Football, Inc. ayant mené à l'abolition de six marques de commerce au motif qu'elles peuvent être désobligeantes envers des peuples autochtones des États-Unis.
Veuillez noter que l'événement aura lieu en anglais.
***
Blackhorse v. Pro-Football, Inc. and the NFL's Washington Commanders: Commemorative Renaming through Trademark Law.
Join us virtually on November 10th, from 11:30 AM to 1:00 PM, for a discussion, moderated by Professor Veldon Coburn, with Amanda Blackhorse and Jesse A. Witten on the case Blackhorse c. Pro-Football, Inc. which led to the striking down of six trademarks on the basis that they may disparage a substantial composite of Native Americans.
Please note that this event will be held in English.