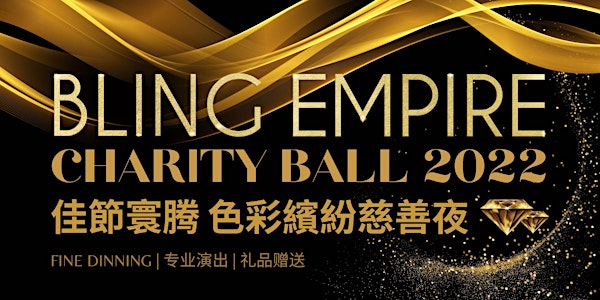 Bling Empire Charity Ball 2022
届時名流雲集、衣香髩影、美食美酒、流光溢彩!專業舞臺燈光、知名歌手獻唱、雜技舞蹈互動、游戲抽獎助興、多家媒體共賀!聖誕佳節心存感恩,晚宴門券收益扣除相應費用,悉數捐贈本地慈善機構!從善如流,有你有我!
When and where
Location
Angus Glen Golf Club 10080 Kennedy Road Markham, ON L6C 1N9 Canada
Refund Policy
Contact the organizer to request a refund.
Eventbrite's fee is nonrefundable.
About this event
佳節來臨,全城歡騰!從善如流,色彩繽紛!
"寰腾國際" 携手 "色彩醫美" 傾情推出 "佳節寰腾 * 色彩繽紛 * 慈善夜"!
12月6日 Angus Glan Golf Club 届時名流雲集、衣香髩影、美食美酒、流光溢彩!專業舞臺燈光、知名歌手獻唱、雜技舞蹈互動、游戲抽獎助興、多家媒體共賀!
聖誕佳節心存感恩,晚宴門券收益扣除相應費用,悉數捐贈本地慈善機構!從善如流,有你有我!當晚亮麗服飾大獎"(男士、女士各一名獲獎者),歡迎您積極參與,獎品及比賽詳情晚宴當晚公佈
Annual Bling Empire Charity Ball sponsored by Signature Cosmetic Clinic and Brandric Real Estate Group for this heart warming season!
Luxury, diamond, champagne, upscale provided with exquisite cuisine, fine winery, never-seen before entertainment, and lucky draws happening on December 6th at the Angus Golf Club! We will also be presenting a best dressed award to one male and female guests, your participation is anticipated! Rewards and details will be announced during the event. Get your tickets now!
To give back to the community any profit generated from tickets will be directly donated to a community charity to show our appreciation.