Description
Interested in Bitcoin, CryptoAssets and Blockchain Economics?
Don't miss this unique opportunity to learn from the top global thinkers in the blockchain ecosystem! 'Blockchain Economic Event' will be comprised of a two part event:
Training Sessions – Morning & Afternoon (9am – 5pm): an all day multi-track series comprised of technical, legal, education and business workshops

Panel Discussions – Evening (6pm – 9pm): an evening series of engaging panel discussions and fireside chats among industry thought leaders.
Don Tapscott is our special guest and will keynote, followed by a series of talks by industry thought leaders such as: Max Keiser, Meltem Demirors, Adam Draper, Chris Burniske, Adam Back, Simon Dixon, Dmitry Buterin, Paige Peterson, Marshall Hayner, Hartej Sawhney, Alena Vranova, Preethi Kasireddy, Connie Galippi, Oliver Gale, Paul Snow, Mike Gord, Sheri Kaiserman, Alan Safahi and Dilip Ratha.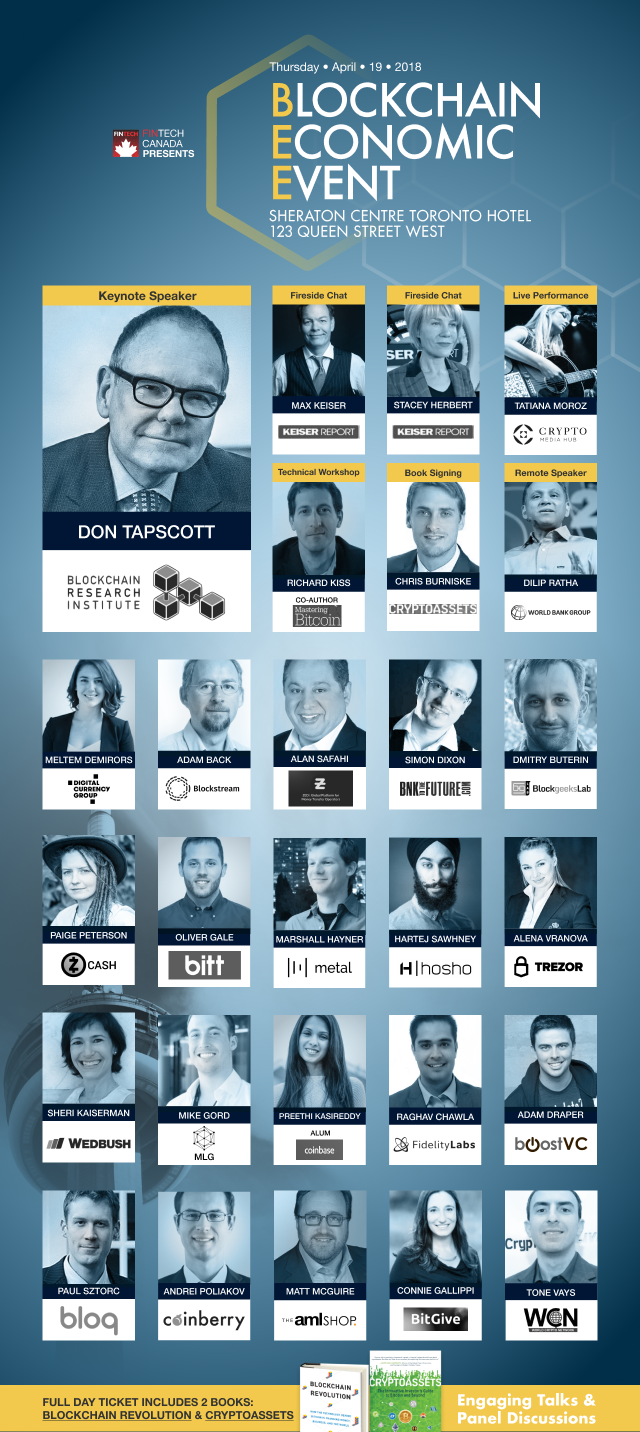 Blockchain Speakers & Panelists:
Full day ticket price includes food, beverages and 2 books: Blockchain Revolution and CryptoAssets.
To buy tickets with bitcoin or ethereum, please send an email to: tickets@fintechcan.ca
- Team Fintech Canada