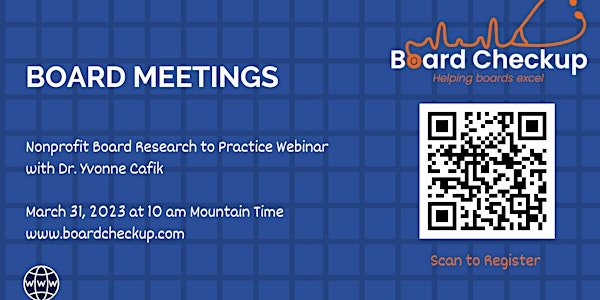 Multiple dates
Board Research to Practice Webinar Seminar Series
On March 31st at 10 am Mountain Time is our next Board Research to Practice Webinar on Effective Board Meetings. Please join us!
Date and time
Fri, Jan 27, 2023 8:00 AM - Fri, May 26, 2023 10:00 AM PST
About this event
Board Research to Practice Webinar: Effective Board Meetings
Most people with little experience with boards of directors, the belief is that the main work of boards takes place at its official, formal meetings. In actual fact a great deal of important board work takes place before and after those meetings. Meetings that are poorly organised, go on too long, go off on tangents instead of sticking to the point, feature personal conflicts or domineering individuals turn people off and can cause serious damage by leading to poorly considered decisions .