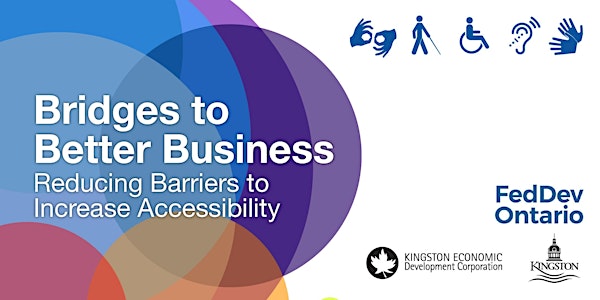 Bridges to Better Business: Reducing Barriers to Increase Accessibility
Build Bridges to Better Business on International Day of Persons with a Disability
About this event
The City of Kingston and Kingston Economic Development Corporation will mark International Day of Persons with a Disability with a special panel discussion on accessible business practices and a presentation of the 2021 Celebrating Accessibility Awards recipients.
Sponsored by the Kingston Economic Development Corporation, Bridges to Better Business is a 60-minute online event featuring Two Canes Consulting, SignAble Vi5ion, CCS, and Dolphin Digital Technologies.
The event is free to attend, and attendees will learn how to embrace and improve accessibility in the workplace through employment and customer service.
Close captioning and ASL interpreters will be available during the event, if you require any additional and/or other forms accommodations, please contact Nour Mazloum at mazloum@kingstoncanada.com.