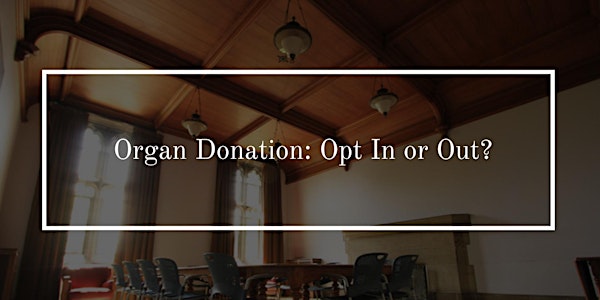 Café Bioethics: Organ Donation...Opt In or Out?
When and where
Location
Hart House - South Dining Room 7 Hart House Circle Toronto, ON M5S 3H3 Canada
Description
This month we'll be discussing organ donation systems around the world. Opt-in systems require citizens to actively pursue organ donor status. In contrast, opt-out systems presume consent, and require those who do not consent to actively reject organ donor status.
Abdullah Malik, an undergraduate student at U of T studying pathobiology, will be presenting relevant contextual information at 7pm so please try to make it on time if you can!
This is a multi-layered discussion, so individuals with various backgrounds are welcome, as always!
If you would like to
simply attend and listen to the discussion, this is totally allowed and welcome. It is my utmost priority for those who attend to enjoy the event and feel comfortable! Free flowing discussion (with my moderation) is encouraged!

Please don't hesitate to ask any questions. Message us on Facebook or email us anytime at cafebioethics@gmail.com.


Thank you so much for your support!