Description
ALL TICKETS ARE SOLD IN ADVANCE - no door sales.
A historical walking tour of Yonge Street with professional pop-up plays, musicians in the park and signature cafe treats.
TOUR STARTS AND ENDS AT THE RICHMOND HILL HERITAGE CENTRE:
Meet the Shadowpath tour guide at Richmond Hill's Heritage Centre,
19 Church St N, Richmond Hill, ON L4C 3E6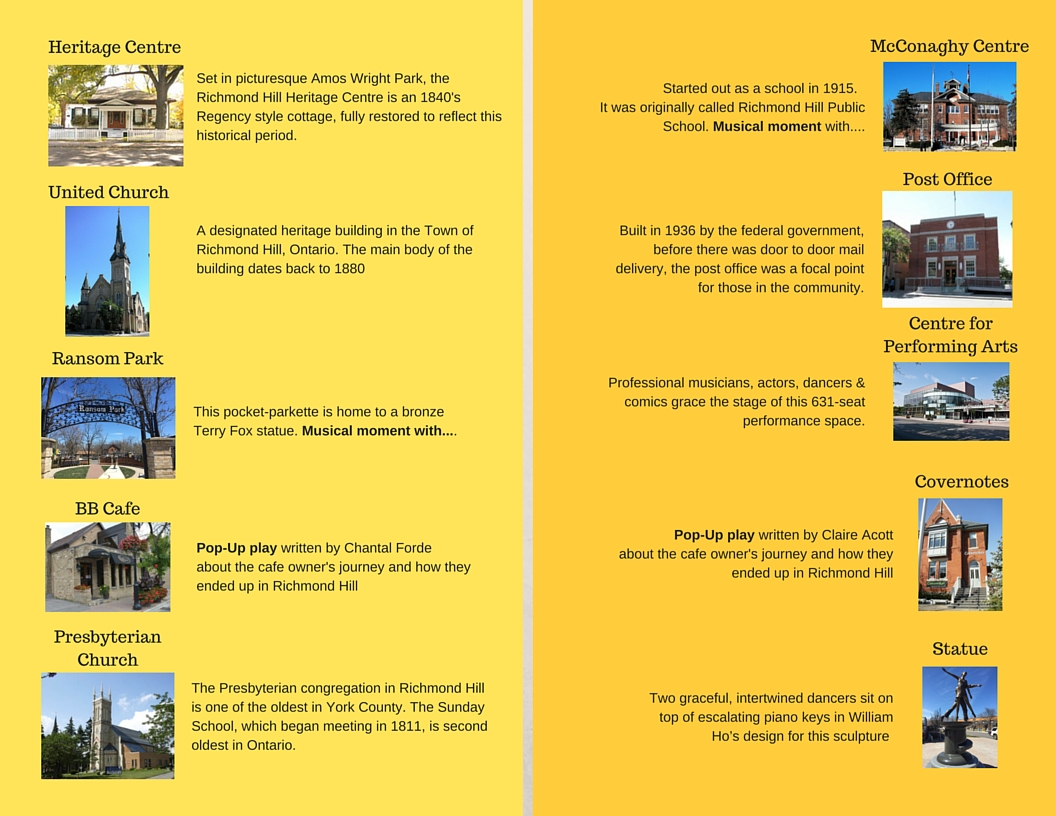 TIMES FOR TOURS
Saturday August 13th, Tour Time starts at 11am - 1pm
Saturday August 20th, Tour Time starts at 1pm - 3pm
Saturday August 27th, Tour Time starts at 2pm - 4pm
TICKETS $25 (includes cafe snacks)
The Pop-Up Plays in Cafes
To complement your signature cafe treats, short 12 minute plays will be featured at BB Cafe and Covernotes Coffee House, inspired by the cafe owners' journeys to run a cafe in Richmond Hill. Featuring professional actors and plays written by playwrights: Chantal Forde and Clair Acott.
Music In The Park
A local musician will pop up at a few key locations along the tour with a musical rendition of a little Richmond Hill history.
The Cafe-Featured Snacks!
BB Cafe is showcasing three of their most famous cakes alongside a splash of coffee or tea.
Covernotes Coffee House is offering organic freshly roasted coffee along with their famous morning glory muffins.
Add Ons:
Once the Cafe Cruise concludes back at the Heritage Centre, you can add on to your experience in the following ways:
August 13th ONLY add a selection of dainty sandwiches and scones, served with clotted cream and preserves and tasty homemade pastries/cookies. ($15/person)

August 20th ONLY add private blend teas and featured desserts. ($9/person)
August 27th ONLY add ice cold lemonade and homemade cookies. ($3 person)
Parking:
Elgin Barrows Arena, 43 Church St S, Richmond Hill, ON L4C 1W1
A 2 min walk from the Heritage Centre.
Weather:
The Cafe Cruise will cruise no matter what. Rain can not hold us back. If you suspect showers, bring an umbrella and we'll sing in the rain as we traverse the streets of Richmond Hill.
Cash: There are cafe treats included in the the ticket price but you may want to have some extra cash on hand in case your taste buds are responding positively to your cafe experience.
Tipping The Tour Guide: This is not expected but she will kindly accept if tips are forced upon her.