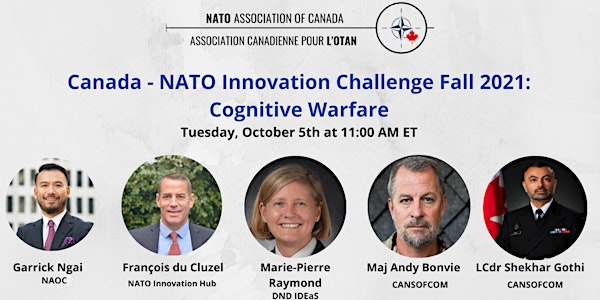 Canada - NATO Innovation Challenge Fall 2021: Cognitive Warfare
An information session on the Fall 2021 NATO Innovation Challenge in Canada.
About this event
Are you a startup, an academic team or a SME working on a solution to secure the cognitive domain from attacks aimed at manipulating human behaviour and sow disunity within civil society?
Join us for an informational webinar on October 5th as Canada hosts the Fall 2021 NATO Innovation Challenge organized by Canadian Special Operations Forces Command (CANSOFCOM), Innovation for Defence Excellence and Security (IDEaS) and the NATO Allied Command Transformation (ACT) iHub.
Innovators will have the opportunity to familiarize themselves with the concept of Cognitive Warfare as well as the Innovation Challenge's eligibility requirements, application process and timeline.
For innovators wishing to apply or get more general and Canadian-specific information regarding the Fall 2021 NATO Innovation Challenge, we invite you to check the links below:
Our Speakers
Garrick Ngai: Garrick Ngai is an international marketing executive specialising in the aerospace and defence sector. He is a Vice President and Director of the NAOC and is currently an adviser to the Canadian Department of National Defence. Garrick's past international marketing assignments include the International Civil Aviation Organization, the Canada-China Business Council, L3 Harris, NATO, and management consultancy in the US. Garrick is an MBA graduate from the Schulich School of Business at York University and is a Fellow at the UK Chartered Institute of Marketing.
François du Cluzel: Mr. Francois du Cluzel is the NATO Innovation Hub manager. After a long experience in the French Army as a light armoured cavalry officer, he was assigned to Supreme Allied Command of Transformation (Norfolk, Virginia)on August 2013, where he contributed to the creation of the Innovation Hub. In 2016, he retired and became a NATO civilian. He graduated from the Institute for International Relations in Strasbourg and holds a Master's Degree in International Relations.
LCol (ret'd) Marie-Pierre Raymond: LCol (ret'd) Marie-Pierre Raymond obtained a Bachelor in Chemistry (Université de Montréal) and a Master degree in Chemical Engineering (Royal Military College of Canada (RMC)). Early in her career she worked at RMC as a researcher in the field of Polymers and Project Manager for the Environmental work done in the Canadian Arctic for the Department of National Defence (DND).
Marie-Pierre joined the Canadian Armed Forces (CAF) in 1992 as a Communication and Electronic Engineer specialised in the intelligence domain where she held many positions during her 27 years in uniform. She acted as EW Threat Analysis Officer, Senior Planning Officer for the Land Forces Québec Area, Deputy Commanding and Acting Commanding Officer at CFS Leitrim, Senior SIGINT Advisors at CFINTCOM and Senior Military Advisor at Defence Research Development Canada (DRDC). Was operationally deployed to Turkey with the Canadian Disaster Assistance Response Team (DART) and to East Timor with the United Nations. During her career she represented the CAF at NATO Advisory Committee on Signal Intelligence (NACSI) and NATO Electronic Warfare Advisory Committee (NEWAC).
Upon her retirement she returned to her interest for sciences and technology taking a position as a Defence Scientist and Innovation Portfolio Manager for the CAF Innovation for Defence Excellence and Security (IDEaS) Program.
Marie-Pierre's expertise/experience is flavored to Intelligence support functions for war fighting capabilities. Leveraging her scientific background and military experience she has been actively engaged in establishing linkages between CAF operators and solution generators, both internally and with industry to meet Canadian Defence and Security challenges against ever-evolving threats.
Major ANDY BONVIE, MMM, MSM, CD:
Major Andy Bonvie enrolled in the Canadian Armed Forces (CAF) in October 1988 as an infantry soldier. Following initial training at Canadian Forces Base (CFB) Petawawa, Ontario, he was posted to the 2nd Battalion The Royal Canadian Regiment (RCR) at CFB Gagetown, New Brunswick. He deployed as part of the Yugoslavia United Nations Protection Force from 1992 to 1993. After completion of basic parachutist training, he served in the 3rd Airborne Commando of The Canadian Airborne Regiment (CAR) from July 1993 to Mar 1995; following disbandment of the CAR, he was assigned to the 3rd Battalion, RCR from 1995 until 1998.
Major Bonvie, then Sergeant Bonvie, was posted to Joint Task Force Two (JTF 2) in 1998 as a Special Operations Assaulter. He served in various operational capacities within JTF 2 from 1998 to 2011, and was deployed on numerous occasions to Africa, Bosnia, Afghanistan, and Iraq. From 2011 to 2013, he served as the Special Operations Forces Career Manager within the Directorate of Military Careers, where he was promoted to the rank of Chief Warrant Officer (CWO), before being appointed as the Regimental Sergeant Major for JTF 2 from 2013 to 2016. Following second-language training from 2016 to 2017, Major Bonvie – then CWO Bonvie – was posted to Canadian Special Operations Command Headquarters (CANSOFCOM; soon after, he was appointed Command Chief Warrant Officer CANSOFCOM, serving from 2018 until 2021.
Major Bonvie received his commission in June 2021 and currently serves as the - Officer Commanding C Squadron at the Canadian Special Operations Training Centre, where his portfolio covers all aspects of recruiting for Canada's Special Operations Forces and where he seeks to centralize and increase efficiency of CANSOFCOM's recruiting processes.
Major Bonvie was awarded the Meritorious Service Medal in 2014, and was invested into the Order of Military Merit in 2016.
Lieutenant-Commander Shekhar Gothi: Lieutenant-Commander Shekhar Gothi joined the Canadian Armed Forces (CAF) in 1995 as a Maritime Surface (MARS) Officer at HMCS GRIFFON in Thunder Bay, Ontario. On graduation from Lakehead University he attended the Canadian Forces Officer Candidate School in Chilliwack, B.C. He completed MARS training at VENTURE, The Naval Officers Training Centre in Esquimalt, B.C., earning his Bridge Watchkeeping Certificate (BWK) in HMCS CHALEUR and on promotion to Sub Lieutenant joined HMCS MIRAMICHI as her Deck Officer. Between 1998 and 2008, LCdr Gothi served at sea in positions of increasing seniority in HMC Ships GLACE BAY, YELLOWKNIFE and KINGSTON. He also served ashore as a MARS IV instructor at NOTC Venture, Recruiting Officer at HMCS GRIFFON and Executive Officer at HMCS STAR in Hamilton, ON.
In January 2008 LCdr Gothi deployed on Peacekeeping operations with the United Nations to Sudan. He coordinated the Ceasefire Joint Military Committee which mediated the Comprehensive Peace Agreement between the Sudan Armed Forces (SAF) and the Sudan People's Liberation Army (SPLA). On return to Canada he was posted to Joint Task Force Central (JTFC) Headquarters in Toronto as the Assistant Chief of Operations—Plans (J35).
In August 2009 LCdr Gothi again deployed on Peacekeeping operations with the UN to Port-au Prince, Haiti. He remained in Haiti for over two months following treatment for injuries sustained as a result of the devastating January 2010 earthquake.
On return to Canada, he resumed duties at JTFC on Operation CADENCE in support of the G8/G20 Summits. In July 2010, LCdr Gothi was privileged to have been appointed Commanding Officer of HMCS STAR. On completion of his command, he was selected to be the Executive Assistant to the Commander Naval Reserve in Quebec City. From 2013 until 2015 he was the Officer in Charge of the Canadian Defence Academy Headquarters Detachment Borden which oversees the management of the Basic Training List (BTL) Management and the Subsidized University Training List for the Canadian Armed Forces.
In 2015, LCdr Gothi completed training to become a Training Development Officer (TDO). He served as the TDO for the Canadian Forces Health Services Training Centre at CFB Borden until fall 2018. In September 2018, LCdr Gothi joined the Canadian Special Operations Forces Command as its Innovation Officer for Southern Ontario.
LCdr Gothi is a graduate of the Joint Command and Staff Programme (JCSP) from the Canadian Forces College. He holds a Master's Degree in Business Administration, and baccalaureates in Business Administration and Political Science. He and his wife are the proud parents of twin daughters and a son.