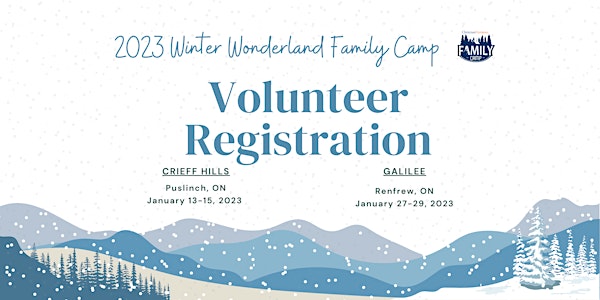 Christian Horizons Winter Family Camp 2023 Volunteer Registration
Christian Horizons Winter Family Camp 2023 Volunteer Registration
About this event
Please fill out this online registration form to confirm your commitment in Volunteering with Christian Horizons at our Crieff Hills or Galilee Winter Wonderland Family Camps.
Volunteers to arrive on the Friday of Camp (13th or 27th) at 4:00pm to train, and prepare for the families to arrive at camp. The Crieff Hills Camp is from Friday, January 13th to Sunday, January 15th 2023. Galilee Camp is from Friday, January 27th to Sunday, January 29th 2023.
The cost of registration for volunteers is $50. More information about fundraising will be emailed to you.
For questions or more information, please contact Bethany Burkhart at bburkhart@christian-horizons.org