Description
An all ages inclusive afernoon of community building and resource sharing!
Yes you saw right, back by popular demand, you are invited to join us for…
Another great Community Upcycling Clothing Swap at the Hub Space!!

MARK YOUR CALENDARS!
Saturday, April 30, 2016
Clothing/swapables drop off: 12:30 - 1pm
Swapping drop in: 1-3pm
Where? The HUB Space,
251 East 11th Ave, Vancouver, BC
(Between Main and Kingsway),
near the Main Street 99 B-line transit stop
What? Please bring all ages and sizes of clothing, accessories, craft supplies & books to swap
How? Please RSVP here to attend:
https://www.facebook.com/events/1715893628686669/

More info? BestEventsInVancouver@gmail.com
www.BestEventsInVancouver.com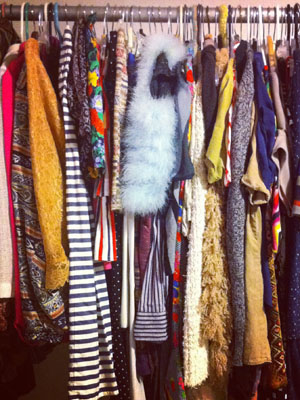 Let's make this swap super.
Components of a Great Swap...
* This time we are doing an advance swapables drop off at the Hub on the Saturday between 12:30-1pm for sorting. Then you are welcome to return anytime between 1-3pm to get your swap on.
* When you arrive: Welcome, c'mon in! Please drop off any bags of unsorted clothing at the sorting area when you enter. All swapables will be sorted by categories on the signage displayed, ie. men's wear, accessories, books, shoes, kids wear etc.
* Please, please, please be mindful of items you DO NOT want swapped or re swapped. We are rapidly outgrowing our venue and last time there were swapped items such as a winter jackets especially that were swapped by mistake. Please keep your personal belongings secure and towards the outer edges of the room and away from the swap tables to hopefully prevent confusion along the way.
* Throughout: Have fun, connect with others! The search is on, help yourself to what you like best.
* Ensure your find a good fit, or put back for someone else to enjoy. Note: There are two washrooms for changing. You are welcome to bring your own full length mirror.
* Closure: If you happen to be around at the end (or beginning), any help with a quick cleanup (or setup) is ALWAYS appreciated!
All leftover clothing, accessories, and small household electronics will be donated to PosAbilities, a local non-profit that benefits people with developmental disabilities.
Congrats, everyone attending this swap is contributing to sharing their resources in an ethical, no cost, enviro-friendly way! Let's work together to create a great community building event!
~~~~~~~~~~~~~~~~~~~~~~~~~~~~~~~~~~~~~~~~~~~~~~~~~~~~~~~~~~~~~~~~~~~~~~~~~~~~~~~~~~~~
Quotes from past participants that have attended our clothing swaps:
"Thank you for organizing! This is the first time I have been and I brought a bunch of bags of clothes and left with some awesome finds! A BCBG dress! It was a blast pickin with so many east van ladies :)"
"I want to thank the swap for the nice jacket and jeans I got. Really appreciate it "
"So enormously excited about this event! Already got two huge bags full of clothing to contribute. Clothing swaps are my jam."
"Thanks for such a great event! … Great event! I heard the same thing come up – which was that folks were so happy to give their stuff to people they can see and who will enjoy it and know it will be loved. I couldn't agree more – keep it in the family so to speak, the city family of people we can see and enjoy them enjoying our stuff! It lives on. Looking forward to the next one!" Jocelynn R.
"THANK YOU everyone for coming out! It was such a fun day. Great energy and great people. Wins all around: new spring wardrobes for everyone, meeting cool people in the community, and donating to a good cause (posAbilities). Cheers :)!"
"Thanks to the organizers and all contributors. That was great!!"
Interested in volunteering to get involved?
Volunteer shifts are NOW AVAILABLE! Pick your shifts before they are all gone.
Advertising Team volunteer shifts by location.
Get first picks before everybody else.
The more you volunteer, the earlier you shop!
Quote from a previous volunteer : "Had a blast… Volunteering Rocks."
"Swapping is AMAZING for two reasons: using your things as currency is a way to recycle un-wanted items back into the world while getting items in return that you are in need of without spending any money. And more importantly, it builds community." Here is a link to another article for extra motivation in a closet cleanse and reason to join us at our next clothing swap: http://torontotoollibrary.com/5-ways-to-de-clutter-that-will-actually-change-the-world/
Hope to see you soon!