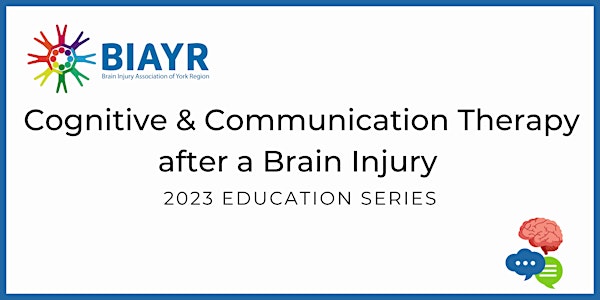 Cognitive & Communication Therapy Post Brain Injury - 2023 Educational Talk
Join Danielle Hyde, Speech-Language Pathologist and owner of a speech therapy private practice called Neuro Connections.
By Brain Injury Association of York Region
Date and time
Wed, Feb 15, 2023 10:00 AM - 11:00 AM PST
About this event
Please join Danielle (Speech-Language Pathologist) as she discusses Cognitive and Communication Therapy after a Brain Injury.
Topics will include:
Memory and new learning strategies
Cognitive domains (attention, memory, executive functions)
Areas of language (auditory comprehension, verbal expression, reading, writing, social communication)
Other areas of practice (voice, swallowing, fluency, speech)
Return to school
Return to work
Please note this Educational Talk runs from 1:00pm until 2:00pm, the Q&A component is included in the 1 hour.
About Danielle Hyde:
Danielle is a Speech-Language Pathologist and owner of a speech therapy private practice called Neuro Connections. Danielle has 10+ years of experience working with adolescents and adults with acquired brain injury as well as progressive neurological disorders. Through her experience in a variety of medical settings, Danielle's true passion lies in the community reintegration of adults with cognitive and communication difficulties.
Danielle believes in a collaborative approach by supporting her clients in creating and achieving their personal goals. Danielle is dedicated to helping her clients gain independence, reduce their frustrations, successfully return to work or school, and return to the activities and social interactions that are important to them.
Danielle is a member of good standing with the College of Audiologists and Speech-Language Pathologists (CASLPO), a nationally certified member of Speech-Language & Audiology Canada (SAC), and holds her Certificate of Clinical Competence with the American Speech-Language and Hearing Association (ASHA).
About the organizer
The Brain Injury Association of York Region is committed to helping individuals, and their loved ones, who are dealing with an acquired brain injury.  Our focus is to provide awareness, education, and advocacy.