Showcase line up of Canada's best stand up comedians as seen on JFL, Sirius XM, TikTok & more!
About this event
Tickets are by reservation only, we have an $18 pp minimum food purchase requirement along with a $10 entertainment service fee (which will be added to your bill at the show).
Reserve Tickets here: https://tapasatembrujo.com/reservations/
Select Nov 7th, a time slot between 6-7:15pm & the number of people in your party.
SHOW starts at 7:30pm, please arrive no later than 7pm to get your seats & food/drinks ordered before the show begins.
Tapas @ Embrujo presents a professional line up of stand up comedians as seen on Just for Laughs (JFL), Comedy Central, TikTok, Sirius XM, Kevin Hart's LOL Network and more.
This months line up:
COURTNEY GILMORE (JFL, CBC's the Debaters, JFL42)
CHE DURENA (JFL, Sirius XM Top Comic, Comedy Central, +3M Followers on TikTok)
JACOB BALSHIN (CBC's LOL, Sirius XM, Toronto's Best Up & Coming Comedian)
HEADLINER - JARRETT CAMPBELL
Jarrett Campbell's comedy has been featured on MTV, Comedy Network and CBC. Jarrett has performed on stages all across North America and continues to tour regularly with Yuk Yuks. He has opened for the likes of Chris D'Elia, Theo Von, Andrew Schulz, Mark Normand, Andrew Santino and many more. He just appeared on Jeff Ross's Roast Battle and recorded his second television set on the Jim Jeffries Gala at Just for Laughs in Montreal. Jarrett was nominated as the 2019 Breakout Artist of the Year at the Canadian Comedy Awards, and has previously been nominated for Best Writing in a Comedy Series. Jarrett is currently nominated for Comedy Album of the Year at the 2020 Junos.
And your host ANDREW PACKER (JFL Northwest, JFL 42, Edinburgh Fringe Festival)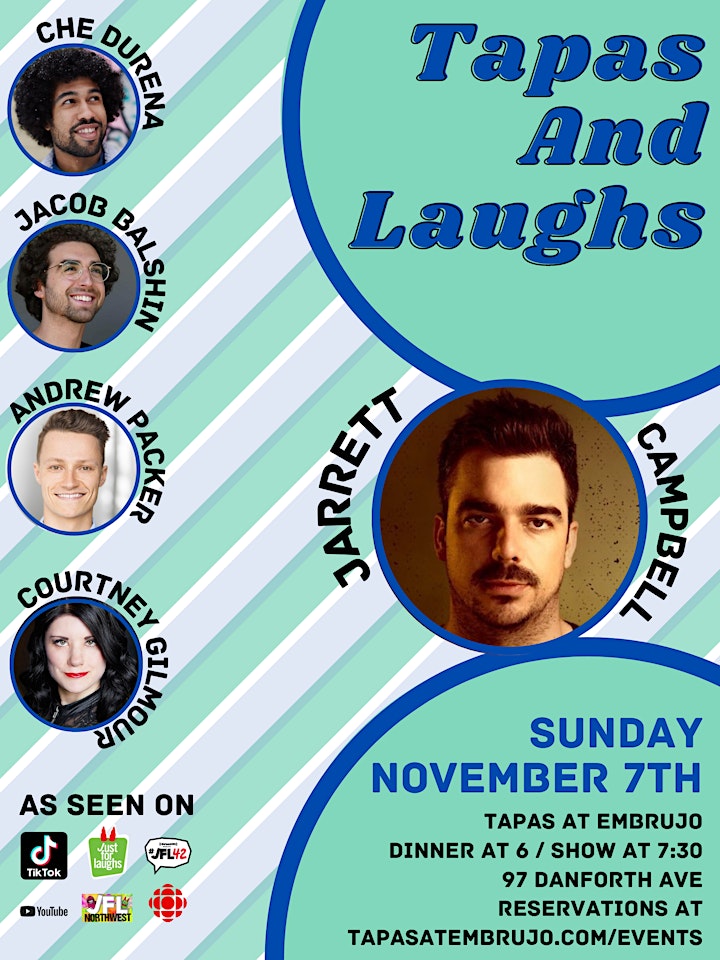 Organizer of Comedy Night | Tapas & Laughs
JNT Comedy Productions has had a hand in producing 1000s of comedy shows from coast to coast and internationally. The JNT Comedy Tour features three comedians that are all quickly gaining success in comedy in their own rights and they come together annually to tour throughout Canada; putting on high quality comedy shows in a town near you!