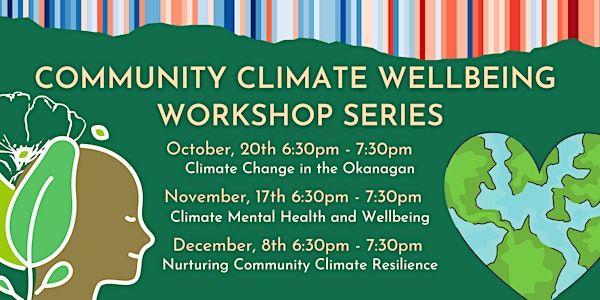 Community Climate Wellbeing Workshop Series
A workshop series for coming together as a community to explore the impacts of climate change on community spaces, wellbeing and resilience.
About this event
This community workshop series seeks to explore and learn about the many ways climate change continues to impact the Okanagan Valley and its growing communities.
Folks can join one workshop to explore a given issue or join all three to reflect on the scope of climate issues in the Okanagan.

WORKSHOP 1 - October 20 - Fostering Community Climate Awareness: Climate change continues to magnify the frequency and intensity of heatwaves, drought, forest fires, flooding, and food and water insecurity in the Okanagan. This workshop offers folks a space to learn about the structural, ecological, social, political and economic climate impacts we face across the Okanagan Valley. It will also explore the different actions or gaps in Okanagan climate planning and think about hopeful and climate justice-centred ways to advance climate action in our communities.

WORKSHOP 2 - November 17 - Climate Mental Health and Wellbeing: The processes of climate change are generating significant mental health and wellbeing impacts across communities. The stress and risks of deadly heatwaves, forest fires, evacuations, lengthy episodes of heavy smoke pollution and flooding can generate physical wellbeing issues as well as anxiety, grief, depression, feelings of isolation, helplessness and hopelessness. This workshop seeks to acknowledge the complex feelings we can experience as we navigate impacts of climate change while also stressing the critical importance of hope and joy in navigating climate action. We will also explore tried-and-tested strategies to move through and beyond climate anxiety to climate action and advocacy.

WORKSHOP 3 - December 8 - Nurturing Community Climate Resilience: Fostering and nurturing community resilience is rapidly being identified as a key process to support and protect communities amid the impacts of climate change. The workshop conceptualizes community and systems resilience as a flexible, evolving, ever in motion verb—an ongoing interconnected process of natural, built, and sociopolitical systems—rather than a noun—a static thing, or endpoint. Resilience building must also recognize the dynamics of induced vulnerability through systems of discrimination that contribute to and maintain power, knowledge, and resource inequity. Activating community resilience also means having a good understanding of who and what the community is, requires, and encompasses.