Join us on May 26-27, 2022, for "Creating Inclusive Economies: Building Bridges Between Public, Private, and Civil Society Sectors".
About this event
The Community Economic Development and Employability Corporation (CEDEC) and the Canadian Rural Revitalization Foundation (CRRF) are pleased to co-host, in partnership with the Université du Québec à Rimouski, Creating Inclusive Economies: Building Bridges Between Public, Private, Civil Society Sectors, taking place on May 26-27, 2022.
The conference will explore themes related to rural development and rural economic development through panels and presentations led by a variety of stakeholders from the public, private and civil society sectors.
Guests and presenters will share evidence and best practices about the opportunities that exist to support and encourage economic development in rural communities across Canada. As Canada's economy begins to recover from the pandemic, these conversations are more important than ever to ensure the well-being of individuals and businesses in rural Canada. We look forward to welcoming you and sharing expert insights and best practices with you.
IMPORTANT: Please review the program for dates and times of panels and presentations. Not all events run sequentially through both days.
Subscribe to the conference newsletter for the latest announcements and updates.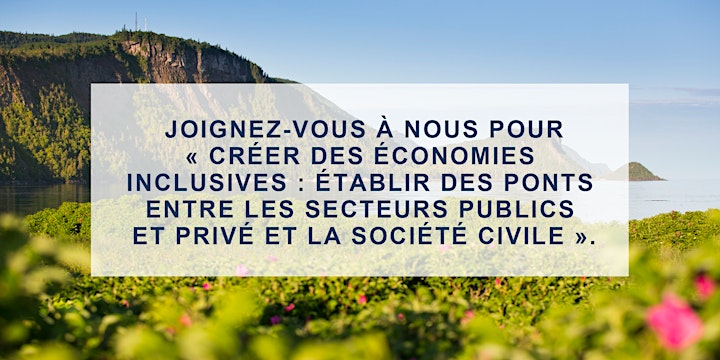 À propos de cette activité
La Corporation de l'employabilité et du développement économique communautaire (CEDEC) et la Fondation canadienne pour la revitalisation rurale (FCRR) sont ravies de coorganiser, en collaboration avec l'Université du Québec à Rimouski, la conférence «Créer des économies inclusives : établir des ponts entre les secteurs public et privé et la société civile » qui aura lieu les 26 et 27 mai 2022.
La conférence explorera des thèmes reliés au développement rural et au développement économique rural par l'entremise de groupes d'experts et de présentations de nombreuses parties prenantes provenant des secteurs public et privé et de la société civile.
Des invités et des présentateurs feront connaître des données probantes et des pratiques exemplaires à propos des possibilités qui existent pour appuyer et encourager le développement économique dans les communautés rurales partout au Canada. Au moment où l'économie du Canada commence à se rétablir de la pandémie, ces conversations sont plus importantes que jamais afin d'assurer le bien-être des individus et des entreprises du milieu rural du Canada. Nous sommes impatients de vous accueillir et de vous faire connaître les perspectives des experts et les pratiques exemplaires.
IMPORTANT : Veuillez passer en revue le programme pour connaître les dates et les heures des panels et des présentations. Ce ne sont pas toutes les activités qui se déroulent de façon séquentielle durant les deux jours.
Abonnez-vous à l'infolettre de la conférence pour connaître les plus récentes annonces et les nouvelles actualisées.