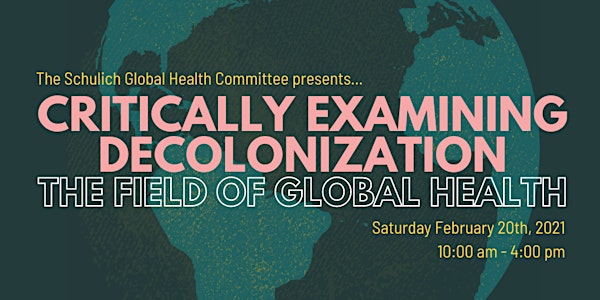 Critically Examining Decolonization: The Field of Global Health
Critically Examining Decolonization: The Field of Global Health
By The Schulich Global Health Committee (Western University)
Date and time
Sat, Feb 20, 2021 7:00 AM - 1:00 PM PST
About this event
The field of global health is rapidly evolving. With an increasing number of medical students living in Canada showing interest in the field, its relevance and importance in medical education has never been more salient. Despite its increasing popularity, the field remains relatively apolitical and vaguely delineated. "Global Health" today is considered a modern version of what has been previously referred to as international health, tropical medicine and colonial medicine. Yet, its colonial roots remain largely unacknowledged in its study and practice. The educational movement termed as "decolonization" was first introduced by a series of protests that occurred in Cape Town. Following activism from students at the University of Cape Town, universities began to organize conferences surrounding decolonization, with conferences occurring at Harvard, UC Berkeley, Duke, and The University of Edinburgh.
Recently, the term decolonization has become widespread. Yet, with its widespread use, there is a worry that the term has been simplified and diluted, devoid of critical examination, introspection and discomfort. In fact, using decolonization as a metaphor can result in evasive practices focused on absolving settler guilt, rather than repatriation (1). The central questions we wish to interrogate are: Who can speak of decolonization? How do we view decolonization as a constant framework of unlearning and learning? How can we create community spaces for the necessary discomfort and interrogative process that decolonization requires?
Our conference aims to create a space where these questions can be discussed – allowing medical students to begin interrogating questions of power and privilege, and the ways in which they can begin to dismantle the power structures in which they interact. Moreover, global health is inherently local. This conference aims to examine the ways in which global and settler colonialism interact, and the ways in which power asserts itself to silence voices.
Schedule:
10:10 am-10:50 am: Opening Keynote
Speaker: Lee Maracle
11:00 am- 12:00 pm, Panel #1: Dismantling Global Colonialism and Power and Privilege within Multilateral Organizations
Panelists: Dr. Senjuti Saha, Dr. Sumegha Asthana, Professor Yap Boum , Shehnaz Munshi
The origins of the field of global health are largely rooted in colonialism. Before the term "global health" was used, "international health" was utilized for decades by academics, purporting the idea that high income countries should "help" low-income countries with health crises, ignoring the ongoing oppression and legacy of colonialism from the aforementioned high-income countries. How has neo-colonialism impacted global governance structures (World Bank, IMF), international health organizations (WHO, UNICEF), and private foundations (Gates Foundation)? How can we begin the process of redistributing power?
LUNCH BREAK: 12:00-12:20
12:20-12:50: Mini Lecture on "Harvesting and utilizing tacit knowledge in national public health policy planning"
Speaker: Dr. Meleckidzedeck Khayesi
1:00-2:10 pm: Panel #2: Dismantling Settler Colonial States
Panelists: Lee Maracle, Dr. Rick Monture, Dr. Karen Hill, Yotakahron Jonathan, Dr. Samir Shaheen-Hussain
In the article "Decolonization is not a metaphor," Tuck and Yang comment on the ways in which decolonization efforts make no mention of Indigenous peoples, our/their struggles for the recognition of our/their sovereignty, or the contributions of Indigenous intellectuals and activists to theories and frameworks of decolonization" (1). In today's time, where the word decolonization is used copiously, what are the dangers of using decolonization as a metaphor? How can we ensure that decolonization is focused on actual repatriation of Indigenous life and land, rather than centering settler guilt? What does this mean within the Canadian health care context?
2:15-3:15 pm, Workshop: How to critique dominant narratives when you're in a field: Examining Power and Privilege within our Syllabi
Speaker: Dr. Malika Sharma
*Note: Due to number constraints, the workshop session may be restricted to medical students.
As medical students, how can we critically examine our syllabi to understand whose voices are being represented, and more importantly, whose voices are not represented? In Gayatri Spivak's essay "Can the subaltern speak," Spivak questions whether it's possible for someone to speak to or for groups of people that have been excluded from power structures. Dr. Malika Sharma builds on Spivak's work in the medical context by stating that "simply bringing patient voices to the table is insufficient. To truly engage in dialogue involves a deliberate, reflexive and potentially painful effort to recognise our own privilege as medical providers, and how we as practitioners have marginalised those voices to begin with" (2). This workshop aims to allow medical students to develop ways to challenge traditional power structures and hierarchies in doctor-patient relationships, both in the clinic and in their syllabi.
3:20-4:00 Q&A, In Conversation with Harsha Walia and Dr. Nanky Rai
What are the connections between settler colonial violence in Canada and Canadian imperialism and neocolonial violence globally? To conclude the conference, students will have a chance to ask Harsha Walia and Dr. Nanky Rai questions they have reflected on throughout the conference.
Tuck, E., Wayne Yang, K. (2012). Decolonization is not a metaphor. Decolonization: Indigeneity, Education & Society, 1(1), 1-40.
Sharma, M. (2018). 'Can the patient speak?': postcolonialism and patient involvement in undergraduate and postgraduate medical education. Medical Education, 52(5). https://doi.org/10.1111/medu.13501