Description
In 'Cultivating Curiosity by Growing Change Resilience' we will discover the relationship between curiosity and resilience, and explore how we ourselves can become more resilient, and more curious.
Curiosity is increasingly understood as an attitude and characteristic of great value in a rapidly changing world and work environment. In the face of the radical technological/social transformations of the '4th Industrial Revolution' (AI, 3D-Printing, driverless vehicles, nanotechnology, blockchain, the Internet of Things, etc.) volatility, uncertainty, complexity and ambiguity (VUCA) are not the exception, but the norm. Trying to navigate what can feel like a constant storm of change can become personally and organisationally exhausting and bewildering. Unfortunately this kind of stress can discourage and hinder curiosity right when we need it most. While curiosity is our most useful aptitude in navigating (as well as initiating) disruptive change, activating and sustaining curiosity requires resilience.
In the course of the workshop we will explore what curiosity is, its role in human evolution and in organisational success, and how we begin losing it. We'll look at personal and organizational identity as living systems with boundaries that can be challenged, provoked and disrupted in ways that create change stress. We'll study stress and how its positive and negative attributes can be amplified by behavioural habits. We'll look into the neurology and physiology of stress and habit and how individuals and organisations can get 'stuck' and 'frozen' in destructive feedback loops.

To learn how to escape these negative loops we'll flip Maslow's heirarchy of needs upside-down putting 'purpose' first, we'll find out if our resilience cup's half-full or half-empty, learn how to re-stock our resilience, and make a resilience commitment to ourselves. Throughout the workshop we'll progressively revisit 'mindfulness' and go through a series of 'mindfulness exercises' in which you'll learn, step-by-step, the basics of mindfulness and mindfulness meditation.
This workshop is a highly interactive journey that uses science, storytelling, crafts, exercises and mindfulness practises. Meaningful questions and thought provoking discussions are encouraged and expected. Great importance is placed on engagement, participation and experiential learning.
Participants will come away with new concepts on curiosity and identity and a new perspective on change stress, as well as a practical method (mindfulness & mindfulness meditation) and a new understanding of resilience, all of which can be applied to your VUCA world, at home and at work, any day and any time.
We will:
Gain an understanding of what curiosity is, and why it is so important.

Learn about identity and boundaries, personal and organisational.

Learn how disruptive change can create stress.

Learn how stress affects us personally, and in our organisations.

Learn about resilience: how resilient are we… really; and how to become more resilient so that we can cultivate curiosity towards our most 'wicked problems'.
---
NIK BEESON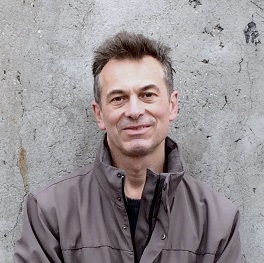 Nik Beeson is not a resilience master.
He's had a very full life some of which has demanded greater resilience than he's had. So, he's had to learn the hard way what is needed to wrestle with the toughest stuff life throws your way. And he's a slow learner! This has given him an uncommonly empathetic perspective on how we all struggle with life's tough challenges and wicked problems.
Please don't expect easy answers or simplistic solutions: life, love & work can be arduous, messy and challenging!
Nik is a Change Consultant specialising in curiosity, disruption and resilience. He is the director of the Curiosity Culture project, co-founder of Toronto Change Days, co-director of Change Days in North America, and an associate at Capillary Consulting. He's a Professional Coach and Certified Change Agent (ACMP), with 20 years of experience in change and technological migration in the field of Digital Communications.
Previously Nik was a Spiritual Care resident on the Intensive Care Unit, Emergency and Neuro Wards at the Toronto Western hospital, worked in Palliative Care, and was a live-in staff person in homes for the homeless and for people with mental health challenges. His university studies (Theology & Ecology) focused on consciousness, addiction and love. He has cultivated a compassionate, sophisticated and pragmatic approach to identity, limitation and transformation that he applies to his change work with individuals and organisations.
Nik also composes and occasionally performs adventurous and exploratory music, writes prose and poetry, and is an ever-curious practitioner and initiate of Kundalini Yoga, mindfulness awareness and Contact Dance.

He's also Pop to two marvelous teenage boys.
---
Delivery is in person but we also offer this course as an option to bring into organizations and work with a group of individuals in house. Just email translibrium@gmail.com and we can set up a time to discuss this option.

We want to ensure that cost is not a barrier to participation. If you would like to attend but are finding cost an obstacle please reach out!