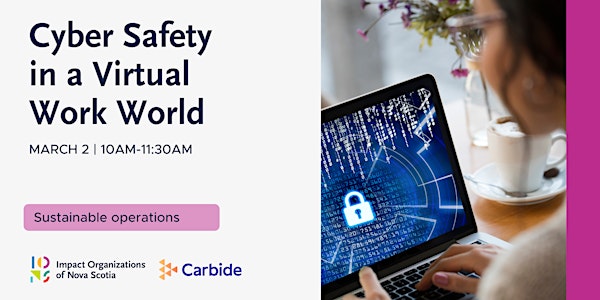 Cyber Safety in a Virtual Work World
Join us March 2nd for a workshop on the growing scope of cyber crime and how it can be avoided as we navigate virtual and hybrid work.
By Impact Organizations of Nova Scotia
Date and time
Wed, Mar 2, 2022 6:00 AM - 7:30 AM PST
About this event
Cyber Safety in a Virtual Work World
Join us virtually on March 2nd, 10 AM-11:30 AM
Learning Stream: Sustainable Operations
With the shift to remote and hybrid work, we are now online more navigating virtual teams and tools. In a world where technology is ever-evolving, cyber criminals are equipped with improved and more readily available tools and are stepping up their scams. The Community Impact (Nonprofit) Sector is a growing target of digital attacks looking to secure information, data, and money. Organizations and their staff need to invest in appropriate strategies to stay clear of cyber-crime. This session provides insight into online threats and potential damages. Darren Gallop, CEO of Carbide (formerly Securicy), will discuss how to assess the risks and share strategies around risk mitigation through controls, policies, training, monitoring, and software. Learn how to stay safe online while continuing to work in service of your communities!
LEARNING OBJECTIVES:
Gain awareness of the growing presence and scope of cyber-crime.
Learn how to spot the key indicators of an attempt at cyber-crime.
Learn strategies for protecting organization from cyber criminals as we continue to navigate aspects of virtual work.
Who Is this webinar For?
This webinar is open to anyone who wants to increase their knowledge on cyber security like members of an organization responsible for data security and risk management (i.e. Board Members, Executive Directors, Managers, staff in Operations, etc.).
Speaker: Darren Gallop
Darren Gallop is a tech entrepreneur, information security expert, Techstars alumni, board member, and the CEO of Securicy. He co-founded Securicy and led the team to develop a SaaS product that guides businesses through creating, implementing, and managing their information security and privacy compliance program. Gallop previously co-founded Marcato and was CEO there for 10 years, until the successful event management software company was acquired by Patron Technology. Gallop spends much of his non-work time playing music, fly fishing, canoeing, and gardening. He is from Nova Scotia, Canada.
Interested? Here's how to register:
Click "Register"
Select the ticket for the session and then select "Register"
Fill out the registration form.
You will receive a confirmation email with the meeting details once you complete your registration.
About the organizer
Impact Organizations of Nova Scotia was founded in December 2012 (as The Community Sector Council of Nova Scotia) to act as voice for the nonprofit and voluntary sector, and to help build skills and capacity to help organizations be as effective as possible in their work. 
A core part of our work is to provide capacity building opportunities to help organizations better achieve their mission through access to high quality training, resources, and skill development. The root of our capacity building efforts is the vision of the Community Impact Sector equipped to affect positive change and address systemic inequities. Our theory is that the sector will be most impactful when organizations develop the capacity and build skills to nurture healthy workplaces, cultivate innovation, and operate sustainably.