Description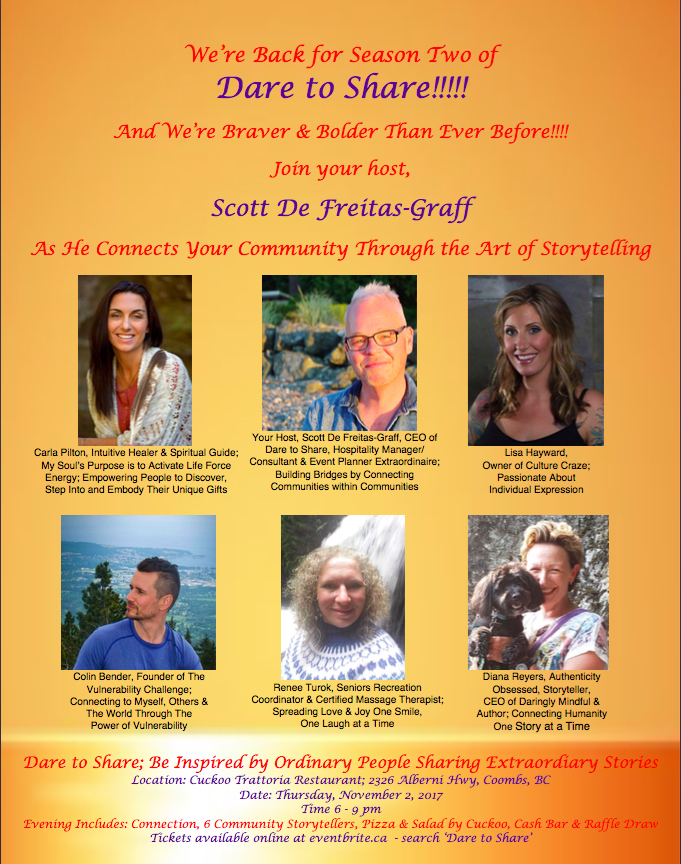 Connecting Your Community Through the Art of Storytelling

Join Host & Storyteller Scott De Freitas-Graff, along with the Founder of Dare to Share and Daringly Mindful™ CEO, Diana Reyers, as he introduces 6 ordinary people sharing extraordinary stories.

November Storytellers from Your Community: Colin Bender, Lisa Hayward, Renée Turok, Carla Pilton, Scott De-Freitas-Graff, and Diana Reyers.
Tickets: $40, includes dinner, a selection of delicious pizza & salads from the world famous Cuckoo Trattoria & Pizzeria. There will also be a no-host bar provided.
Date: Thursday, November 2, 2017, 6 pm - 9 pm. Dinner & mingling at 6:00, storytellers begin at 7:00.

Reserved Seating: If you have purchased tickets for a group of friends or colleagues, and you would like to sit together, please contact Scott De Freitas-Graff to arrange for a reserved table extraordinaryeventspqb@gmail.com OR 250-618-6145

Our Daring Intention:

Dare to Share events are created with the intention of connecting the community and to connect communities within the larger community; to inspire individuals seeking the courage to move from a place of the heart with clarity, confidence and ease; to dare to move 'From There to Here'.

We believe that each of us has the ability to show up in the world in a way that reflects what we truly value and feel as unique beings, while honouring others and ourselves along the way.