Description
#DCAR2017 [Data Centre Architecture Roadmap 2017], your one-day conference in Ottawa.
Be exposed to the Data Centre market directions around the globe. From enterprise architecture, to data centre construction and move planning, to security, DCAR bridges the gap between IT and facilities.
Who should attend? Are you in the field of cyber security, data centre planning or construction, or disaster management? If so, then this is your event. The vendor neutral knowledge is ideal for all data centre professionals and upper management.

Breakfast and registration begins at 7:00AM while the networking lunch is at noon. The entire event ends at 2:30PM.
For more information visit http://www.impendo.com/dcar/.
DCAR Sessions
Visit http://www.impendo.com/dcar/ for more background on the speakers and their sessions.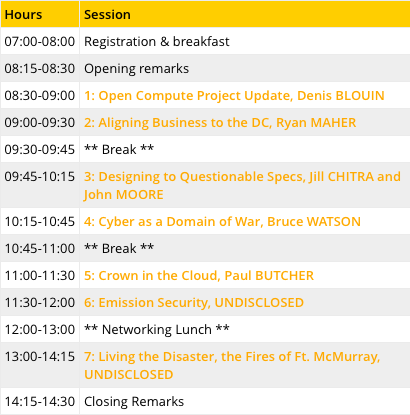 Travel to the Event
There is plenty of parking at the Ben Franklin Place. You can also catch the OC Transpo service to Baseline Station, hop on your favorite bicycle, request an Uber, or call a taxi.


DCAR Sponsors
IMPENDO Inc. – Event Host and Sponsor
Belden Inc. – Lunch Sponsor
Anixter Inc. – Breakfast Sponsor