Description
DEBATE : YOSHUA BENGIO | GARY MARCUS — LIVE STREAMING
Yoshua Bengio and Gary Marcus on the best way forward for AI
Moderated by Vincent Boucher
---
---
AFTER AI DEBATE UPDATE
On Monday, December 23, 2019, Gary Marcus and Yoshua Bengio debated on the best way forward for AI.
5,225 tickets were sold for the international live streaming event. There was quite a twitter storm after the #AIDebate. ZDNet described the event organized by MONTREAL.AI as a "Historic AI debate".

Slides, readings and more on the MONTREAL.AI debate webpage.
---
---
Gary Marcus thinks that symbol-manipulation is critical for causality. In biology, in a complex creature such as a human, one finds many different brain areas. Expecting a monolithic architecture to replicate that seems to Gary Marcus deeply unrealistic.
Yoshua Bengio believes that sequential reasoning can be performed while staying in a deep learning framework which makes use of attention mechanisms and the injection of new modularity and training framework (e.g. meta-learning and an agent-based view).

Bringing causality, in something like the rich form in which it is expressed in humans, into deep learning, would be a real and lasting contribution to general artificial intelligence. However, is it realistic to have a single architecture to capture all of cognition?
Both Gary Marcus and Yoshua Bengio agree that the field of AI might benefit from an articulation of their agreements and disagreements.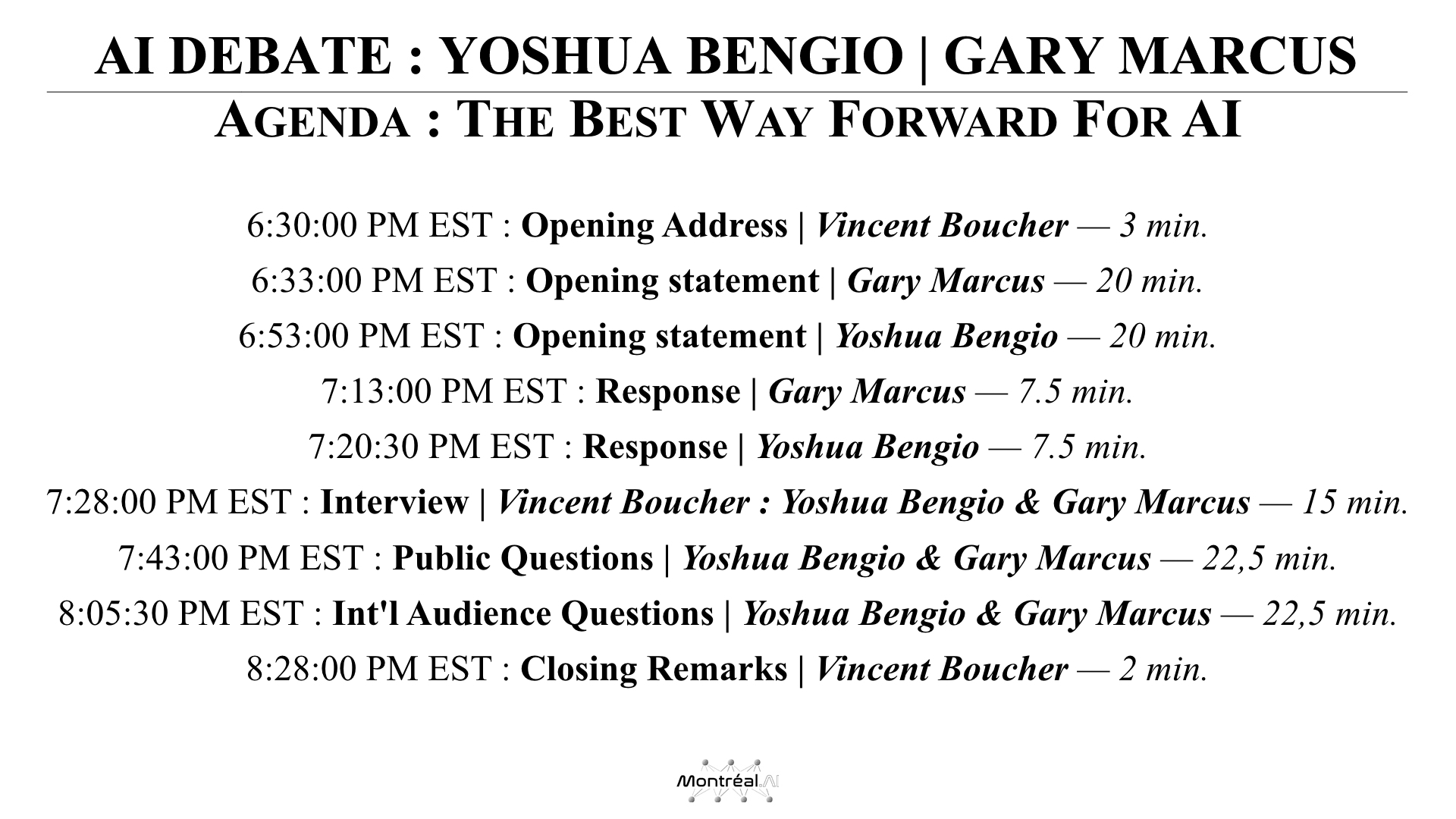 Program overview
Debate : 6:30 PM to 8:30 PM
Questions for Gary Marcus and Yoshua Bengio for the upcoming debate? Submit via this web form! https://montrealartificialintelligence.com/aidebate/
Pre-readings available here : http://www.montreal.ai/aidebate.pdf
To follow the AI Debate on social media : #AIDebate
---


YOSHUA BENGIO, Full Professor, Deep Learning Pioneer and A.M. Turing Award
—

"the Nobel Prize of Computing"


Yoshua Bengio is recognized as one of the world's leading experts in artificial intelligence and a pioneer in deep learning.

Yoshua Bengio's profound influence on the evolution of our society is undeniable. In 2017, he was named an Officer of the Order of Canada. In 2018, he was is the computer scientist who collected the largest number of new citations in the world. In 2019, he received, jointly with Geoffrey Hinton and Yann LeCun, the ACM A.M. Turing Award — "the Nobel Prize of Computing" — for conceptual and engineering breakthroughs.

He is a full professor in the Department of Computer Science and Operational Research at the Université de Montréal. In addition to holding the Canada Research Chair in Statistical Learning Algorithms, Yoshua Bengio is also the Founder and Scientific Director of the Montreal Institute for Learning Algorithms (MILA) — the world's largest university-based research group in deep learning, a Scientific Director of IVADO, a CIFAR Fellow and Program Director and a co-Chair of the Canada's Advisory Council. Concerned about the social impacts of AI, he actively contributed to the development of the Montreal Declaration for Responsible Development of Artificial Intelligence.

Yoshua Bengio's ultimate goal is to understand the principles that lead to intelligence through learning.



---
GARY MARCUS, Scientist, Best-Selling Author, and Entrepreneur
Gary Marcus is Founder and CEO of Robust.AI, and was Founder and CEO of Geometric Intelligence, a machine learning company acquired by Uber in 2016. He is the author of five books, including The Algebraic Mind, Kluge, The Birth of the Mind, and The New York Times best seller Guitar Zero, as well as editor of The Future of the Brain and The Norton Psychology Reader.
He has published extensively in fields ranging from human and animal behavior to neuroscience, genetics, linguistics, evolutionary psychology and artificial intelligence, often in leading journals such as Science and Nature, and is perhaps the youngest Professor Emeritus at NYU.
His newest book, co-authored with Ernest Davis, Rebooting AI: Building Machines We Can Trust aims to shake up the field of artificial intelligence. Praised by Noam Chomsky, Steven Pinker, Garry Kasparov and many more, Rebooting AI aims to change how you think about artificial intelligence.
---
Location: This is an online event. Attendees will receive instructions on how to access the live stream just prior to the event.
Language: English.
FAQs
How can I contact the organizer with any questions?
The General Secretariat of MONTREAL.AI : secretariat@montreal.ai
This event will be livestreamed worldwide.