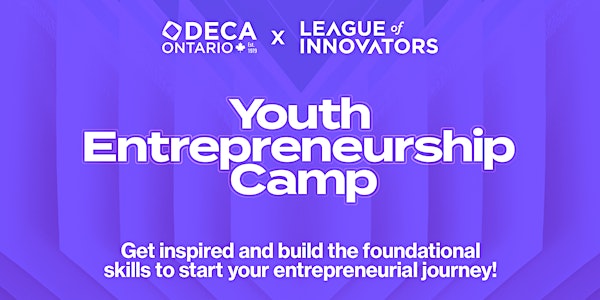 DECA Ontario & League of Innovators: Entrepreneurship Camp
Join DECA Ontario and League of Innovators to start your journey as an entrepreneur!
About this event
Your registration is NOT confirmed after you submit this form. Please register via Zoom at this link: https://us02web.zoom.us/meeting/register/tZIod-2trT4rGtxyyzYp9ocrkXbaE4mfMGHy
Please note: this is a 4-part event. Sessions are weekly on Tuesdays (4:00 - 5:00 PM ET) starting October 27 and ending November 17.
Whether it's building solutions for those affected by a pandemic, fighting for racial equity, or working on prioritizing the urgency of climate action, youth around the world are stepping up. Young people need the entrepreneurial skills and tools now more than ever to solve and work on important issues that are impacting our society and matter most to them.
At the League of Innovators (LOI), we believe in creating a world where the next generation of leaders feel equipped to be entrepreneurs and changemakers. We know that you don't need a lot of life experience to be an innovator, but we also know that getting started is no easy feat. In this entrepreneurship camp, you'll have access to a series of four live workshops and countless tools to start your journey as an entrepreneur.
October 27: Getting Started as an Entrepreneur
Start your journey by understanding why entrepreneurship matters to you and how it can play a role in your life. We'll dive into the steps it takes to be an entrepreneur and why it's important to focus on the problem you're solving first before creating the solution.
November 3: Generating Radical Ideas
Once you have a clear idea of the problem you're solving, you'll work through coming up with potential ideas to tackle it. Building a solution does not happen overnight. We'll work on the mindset to think big while working through small steps you can take to understand who you're building the solution for and what they need.
November 10: Validating Your Solution
You have some great ideas, but you don't know if they'll work. The process of validating is one of the most important parts of entrepreneurship. We'll go over how you can start sharing your idea with your network, getting feedback and starting to refine it.
November 17: Building Your Roadmap
You're excited about what you're starting to build (we hope!) and you want to keep the momentum going. We'll work on what it means to build sustainable businesses, how you can continue to get clear on your problem and solution and set goals that keep you motivated on your path as an entrepreneur.
Each session runs for 60 minutes from 4 - 5pm EST and will include stories of young entrepreneurs across Canada, mini-workshops and group activities.
By attending and actively participating in this camp, you will receive a certificate of Entrepreneurship from DECA Ontario.
Not sure you can attend all four workshops? No worries! Make sure you still register so you can get the Zoom link!
Note that you must attend all 4 sessions to receive a certificate from DECA Ontario and to qualify for points towards the #NextLevel Leadership Program.