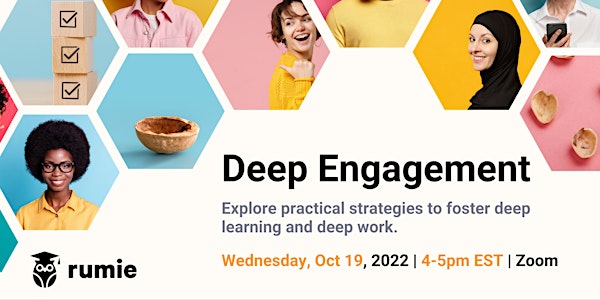 Deep Engagement Webinar
Ready to level up your lessons?
About this event
As educators, there are pedagogies that need to be effectively deployed to ensure that students are properly engaged and set them up for a successful future & career.
Many of our traditional deeper learning techniques have evolved over the years. Building on what we know about the modern learner and how we can meet them through doses of microlearning, we layer in the popular 6 learning competencies that can transform the educational experience.
Why you'll love this event 💡
Apply your understanding of the modern learner to add engaging elements to your classroom
Meet learners where they are, learn how to speak their language using GIF's and memes
Ask questions about Rumie & bytes and have them answered live
This webinar will be hosted on Zoom. You will receive details upon order confirmation.
Also:
Check out the Rumie library and browse 1,000+ Bytes for education and life skills.
Rumie is a library full of Bytes that have been peer reviewed and vetted, ready for you to use with a few clicks!